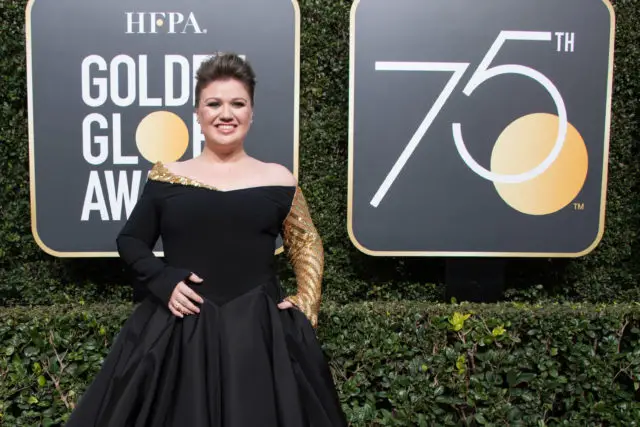 The 75th Annual Golden Globes Awards took place at the Beverly Hilton in Beverly Hills, Calif. on Sunday (Jan 7). Although the award recipients came from the world of motion pictures and scripted television, some of our favorite reality stars made an appearance.
Keith Urban was on hand to support his wife, actress Nicole Kidman, who ultimately won a best actress award for her role in the limited series, Big Little Lies. But the country star and former American Idol judge also teamed up with OG winner, Kelly Clarkson to present Best Original Song to the songwriting team Benj Pasek and Justin Paul for "This is Me," the theme to the motion picture The Greatest Showman starring Hugh Jackman
One hour into the telecast, and production was already running behind. Dang–no time for patter! But the minute the two spent on stage yielded some fun. After the envelope was opened, the duo SANG the presentation!
"And the Golden Globe Goes tooooo"
"We have now officially sung on the Golden Globe Awards," joked Kelly.
The big highlight of the night? Oprah Winfrey's rousing speech upon accepting the Cecil B DeMille award. For a blow by blow of the night and video clips of key moments (including Oprah's speech and Seth Meyers' opening monologue) click for our live blog and recap.
Kelly made the rounds on the red carpet, and she did not disappoint. Check out a few highlights here!
When Kelly notices Meryl Streep during her interview with Ryan Seacrest she totally flips out. Watch Kelly meet her idol.
Kelly Clarkson remains the best #GoldenGlobes pic.twitter.com/oTceeScHCz

— Jarett Wieselman (@JarettSays) January 7, 2018
For a minute, Seacrest is afraid Kelly will fall down the steps.
That moment when @Kelly_Clarkson sees Meryl Streep and freaks out. Good to see you KC :) #GoldenGlobes #ERedCarpet pic.twitter.com/n5o0t5VWOq

— Ryan Seacrest (@RyanSeacrest) January 7, 2018
Ditto when Kelly spots Catherine Zeta-Jones. The poor girl loses her mind!
You HAVE to watch @kelly_clarkson fangirl over meeting Catherine Zeta-Jones at the #GoldenGlobes. She is living her best life right now! pic.twitter.com/4mL1FD1cJA

— Access (@accessonline) January 7, 2018
Kelly chats with ABC News about #MeToo
#GoldenGlobes: "I think every DAY should be a platform…" @kelly_clarkson on #TimesUp and #MeToo #Globes75 pic.twitter.com/QTzjZaBNRZ

— Good Morning America (@GMA) January 7, 2018
More photos. Kelly's dress is gorgeous.