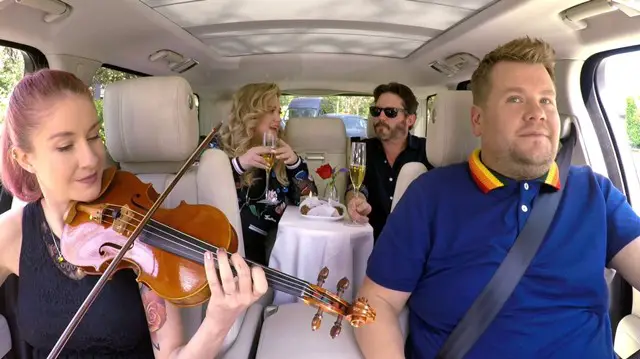 Kelly Clarkson and James Corden teamed up for an epic Carpool Karaoke, which aired on CBS Late Late Show Wednesday (Nov 29), featuring several of the American Idol OG singer's best loved songs.
The bit kicked off with a rousing rendition of Kelly's beloved smash, "Since U Been Gone" complete with harmonies by James. Her current hit "Love So Soft," followed, with The Voice season 14 coach hitting ALL the high notes. Singing "Stronger" (What Doesn't Kill You) came amid a discussion regarding the philosopher Nietzsche. The duo sang "Because of You" and "A Whole Lotta Woman" before arriving at the CBS studios. Fun fact: When Kelly was a kid, she wanted to grow up to be a Marine Biologist.
At one point, Kelly's husband/manager Brandon Blackstock hoped into the car for a little impromptu "date night" arranged by James. Champagne and chocolates, and a violinist accompanied the hilariously awkward "date."
"I feel like we're making a porn!" Brandon quipped.
Watch Kelly Clarkson and James Corden Carpool Karaoke below.
https://youtu.be/8z_cg5CypRc