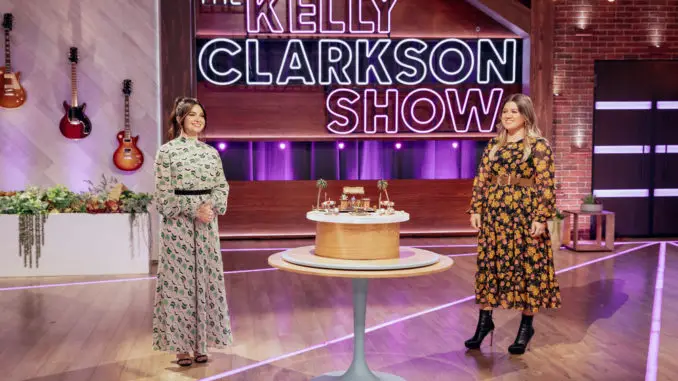 Kelly Clarkson loves bonding with fellow American Idol contestants when they drop by her The Kelly Clarkson Show. So when Katie Stevens, a Top 10 finalist from season 9, visited to promote the fifth and final season of her Freeform show, The Bold Type, American Idol was the first topic.
"It's nice to meet another American Idol person!" Kelly exclaimed. "It's funny. we've never met, but I feel like it doesn't matter what season you're from…it's like a camp." Kelly continued, "Sometimes when you run into people…I'm always like 'Hey we don't know each other, but we kind of do…'" Katie added, "You have an unspoken bond with everybody that does Idol." Katie describes the show as a special club, "Because nobody else understands what it's like to be on that show. And then you meet people….you're like 'You know exactly what I went through'."
Katie described competing on the show in 2010, when she was only 16. She sang "At Last" for her audition, the same as Kelly did back in Houston in 2002. Kelly joked that she had no idea she was auditioning for a TV show, and picked the song after just recently singing it at a wedding. Katie said she went straight from singing in high school talent shows to competing on Idol.
The judges gave Katie conflicting critiques, which lead to choosing a Kelly Clarkson song…which bombed!
Katie explained that her backstory was "the young one with the old soul" but when she got to the live shows the judges "kept telling me that they wanted me to be younger." Katie said. "And in my head, I was like, young, who's young and fun? Kelly Clarkson!"
Katie chose to sing "Breakaway" and described it as the worst of all her performances. Her dad urged her to tell Kelly the story, but now she's afraid people will look it up on Youtube. Of course we will! And here it is…. Hm. Many pitch problems throughout. She sang it at the Top 16 during the semi-finals. She may hate the performance, but she survived in the competition until voted off in a double elimination with Andrew Garcia at the Top 9. Her elimination came after singing "Baby, What You Want Me to Do?" by Jimmy Reed.
Afterward, Katie chatted about shooting the final season of The Bold Type amid COVID-19 protocols. To liven things up, she played pranks on her co-stars. 
The Bold Type season 5 is airing now on Freeform. Watch Katie and Kelly chat about American Idol below.