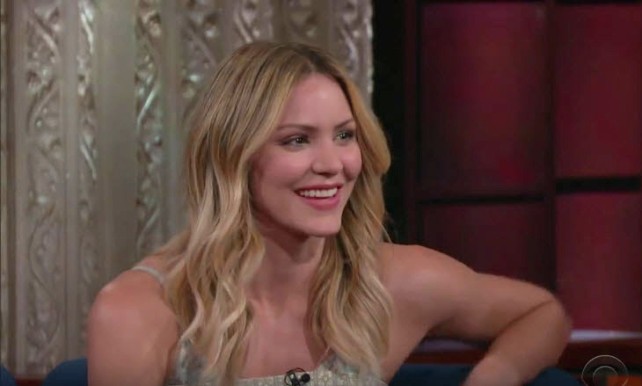 Katharine McPhee is just winding down her 2nd season as a regular on the CBS procedural, Scorpion, set to return to the airwaves next fall.
In this short clip from a recent interview on the Late Show with Stephen Colbert, Katharine dishes on plot contrivances drummed up that allowed her character, Paige the waitress, to sing in two episodes. Stephen joked that he came in 3rd on American Idol. DAMN THAT TAYLOR HICKS he said, before joking that "The harmonica's a crutch…" and Katharine quipped, "It's not a real instrument, is it." No she di'nt! Yes she did! (We might be partying around her like it's 2006 in a minute…wouldn't that be fun? EEP)
BONUS VIDEO: Katharine appeared on Spike TV's Lip Sync battle a few weeks ago, when she faced off against Jason Derulo with a steamy performance of his own song "Want to Want Me." He fought back with "Super Freak" and a Rick James impression. Needless to say, Katharine won the battle.
https://youtu.be/2t_xApImPk4