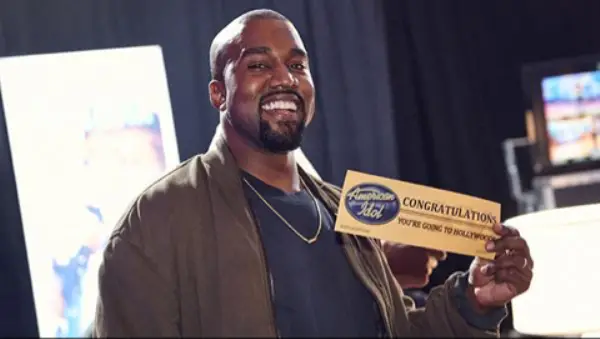 Here it is! The full audition you probably weren't waiting for. Or maybe you were. Hey, it's the last season of American Idol! Why not throw host Ryan Seacrest a bone. He's been faithful to the show that made him a star.
While Idol was in the last audition city, San Francisco last fall, a very pregnant Kim Kardashian (Ryan produces the entire E channel Kardashian franchise. Yes. You can blame him.) and her husband rapper Kanye West, dropped by to pay a visit.
Kanye West "Auditions" for American Idol 15 (VIDEO)
While Kim waited "nervously" outside with Ryan, Kanye stepped into the audition room to sing in front of the judges, Keith Urban, Jennifer Lopez and Harry Connick Jr, in a bid to "earn" a golden ticket to Hollywood. While there have been endless teases of Kanye's cameo in the past few weeks,  Idol has released a full audition clip on the show's Youtube channel. Kanye and Kim's appearance is set to close Wednesday's premiere.
"I always wanted to rap, but nobody believed in me," Kanye confesses. "Good Luck with that…" Keith says, supportively. In a tribute to Jlo, the rapper performs his mega hit "Gold Digger" acappella.
Of course, Kanye gets his Golden Ticket. See you in Hollywood!
https://youtu.be/mulvnLin22g