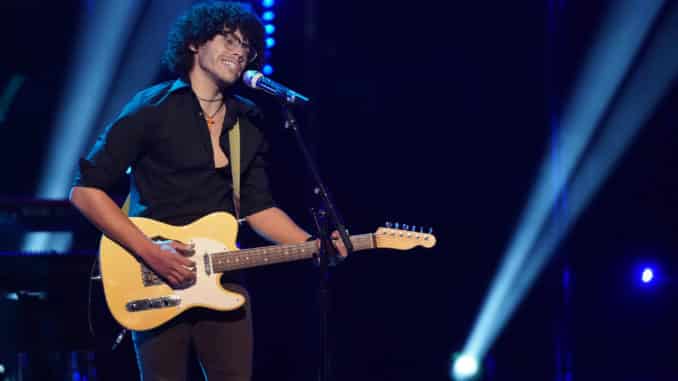 After American Idol contestant Murphy's surprising elimination from the Showstopper round of the competition Monday night, a Hollywood star has stepped in with a huge offer.
The musician, who also goes by the moniker "Blind Boy" wowed the viewing audience during the episode with his original song, "Am I Still Mine." But, much to nearly everyone's surprise, the emotional and beautifully delivered performance did not propel him into Top 24. And adding insult to injury, the judges delivered the bad news on Murphy's birthday. OUCH.
But all is not lost. After his untimely elimination, the singer won't be returning to his regular pre-Idol gig, busking in the streets. Actor Josh Gad is among the outraged fans wondering what Lionel Richie, Katy Perry and Luke Bryan (and the producers!) were thinking when they cut him before the Top 24.  
"Hey @Blindboy_music you were robbed on @AmericanIdol," Josh wrote on Twitter. "and I would love for you to honor us by writing a song for us on #CentralParkTV – DM me"
Murphy wrote back "I'd be honored. :) Dming you now.
I'd be honored. :) Dming you now

— Blindboymusic (@Blindboy_music) March 30, 2021
Central Park is Josh's animated sitcom on Apple TV+, which he co-created with Bob's Burgers creator Loren Bouchard and executive producer Nora Smith. Debuting on May 29, 2020, the series revolves around a family living in Central Park in New York City who must save it from a greedy land developer. The second season is set to premiere on June 25, 2021.
Central Park's main character is a busker. And so is Murphy 
Told through the eyes of a fourth wall-aware busker narrator, named Birdie, the musical series tells the story of the Tillerman–Hunter family who live in Edendale Castle in Central Park.
Patriarch Owen (the dorky manager of the park), his wife Paige (a journalist always stuck with writing fluff pieces and hopes to write a real story), their daughter Molly (loves drawing comics about herself and a boy she has a crush on) and their son Cole (an emotional young boy who loves animals). Their lives change when an elderly heiress and entrepreneur named Bitsy Brandenham and her frequently-abused assistant Helen plot to buy up all the land in Central Park and turn it into more condominiums, shopping stores and restaurants as a way of getting back at the world. The Tillermans must also deal with their issues and save the park.
Incidentally, in our latest American Idol poll, out of a list of 13 eliminated contestants who didn't advance to the Top 24, a whopping 48% of you felt that Murphy was the singer most robbed of the opportunity. 
After elimination, Murphy thanked his fans on social media. "Thank you for everyone that showed faith in me. Though my journey is over on #AmericanIdol, I'll still be singing," he wrote on Instagram. "Tomorrow is a new day and the horizon looks very inviting. #Murphyonidol See you soon. :)"
 

 

 

View this post on Instagram

 

 

*
BONUS: Murphy and Top 24 contestant Graham Defranco chat and sing. coughiwouldhaveswappedgrahamoutformurphycough
 

 

 

View this post on Instagram