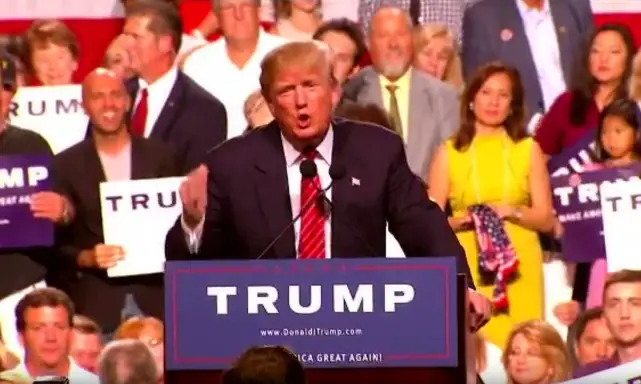 Donald J. Trump, former reality star (The Apprentice) is also headed to be a former Republican president. After 4 days of laborious vote counting, CNN declared that Democrat Joseph R. Biden will be the 46th president of the United States. Other news outlets quickly followed.
Senator Kamala Harris pulls a trifecta as the first female, Black and South Asian U.S. Vice-President.
Once Biden's Pennsylvania vote total passed Trump's on Wednesday morning, it seemed very clear that Biden would prevail. However, it seemed that news decision desks were being extra careful about making the call. (Or maybe they were prolonging the suspense for ratings.)
After calling Pennsylvania (20 electoral votes), networks eventually called Nevada (11 electoral votes), bringing the total to 279. The winner needs 270. Biden is currently leading in *Arizona (11) and Georgia (16), but both states are too close to call. *FOX News and the Associated Press have already called Arizona. Most analysts believe Trump still has a chance to win the state. Most outlets are holding off on calling it.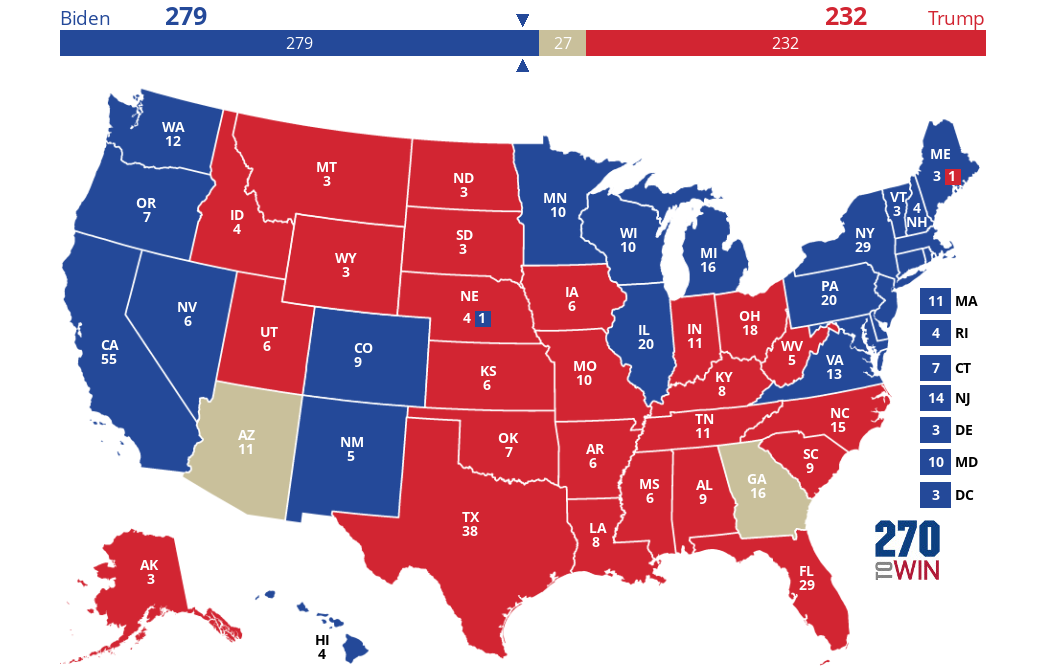 Click the map to create your own at
270toWin.com
Trump and his camp don't accept the results, believing rampant voter fraud handed Biden the win.
According to NBC News, Trump was golfing when the news broke. In his statement, Trump said Biden is "rushing to falsely pose as the winner," and promised to fight the election results in court beginning Monday.
It's worth noting that MI, WI, PA, GA turned red before going blue due to state election boards counting votes mail-in votes last. Election day votes were mostly red in several states after Trump called vote by mail rigged and urged his followers to vote in person.
Check out these reality star reactions
— catie turner (@hashtagcatie) November 7, 2020
You're fired!

— a l e x p r e s t o n (@RealAlexPreston) November 7, 2020
? GOD BLESS AMERICA! ?????? Thank Goodness. Let's all please get back to being better to each other ?? https://t.co/eittM4mnsS https://t.co/Qm6uBYpvvZ

— Didi Benami (@Didibenami) November 7, 2020
America wins, thanks to all of you who voted for decency. Now it's time to heal and celebrate. I'm proud to be alive in a time where we have the first female Vice President. Pic by @unicornfightclub @ The White House https://t.co/3m4dCM3M4o

— Blake Lewis (@BlakeLewis) November 7, 2020
Wooohoooo we did it!

— ADAM LAMBERT (@adamlambert) November 7, 2020
Y'all are so out of key. Telling. https://t.co/grZ9zqAjFw

— ADAM LAMBERT (@adamlambert) November 7, 2020
And these folks celebrating Biden/Harris magically sound more in tune! Telling. https://t.co/aKzUqI3qPZ

— ADAM LAMBERT (@adamlambert) November 7, 2020
We did it! @JoeBiden @KamalaHarris pic.twitter.com/E2ArndIYae

— Casey Abrams (@CaseyBassy) November 7, 2020
10 year old Melinda would have never thought this was possible.

43 year old Melinda is in tears of awe.

Wow. ????????? https://t.co/iFz0QPKmXp

— Melinda Doolittle (@mdoolittle) November 7, 2020
what a great day ??

— Francisco Martin (@fronciscomartin) November 7, 2020
It would be wonderful if Trump conceded peacefully, but I have a nagging feeling it's going to look something like this…#concede pic.twitter.com/AFw89Q6z4Y

— Taylor John Williams (@MrTaylorJohn) November 7, 2020
— Meghan Linsey (@meghanlinsey) November 7, 2020