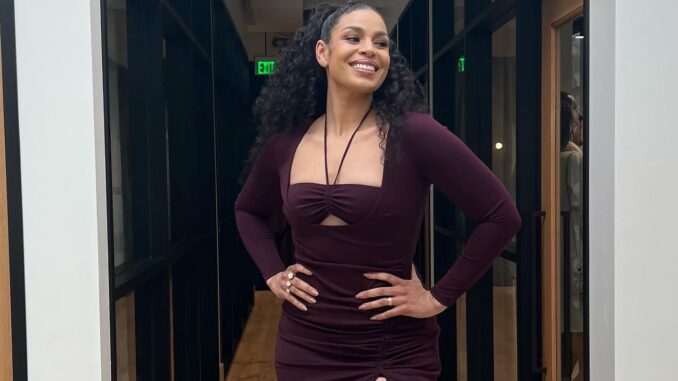 Just days before Super Bowl LVII, Jordin Sparks drops a new song, the sports themed "Stadiums."
Jordin wrote the song with her husband Dana Thomas, Benjamin Shapiro, Jamal Anthony Smith and Ryan Curtis.
"I've loved sports all my life," the American Idol season 6 winner shared on Instagram. "And I wanted to make something that motivated and inspired people before big moments! Stream it, buy it and CRANK IT UP ahead of the big game this weekend!! Enjoy!"
The NFL Network has been playing "Stadiums" as background for their promos for the big game, in which the Kansas City Chiefs and the Philadelphia Eagles face off against each other at State Farm Stadium in Glendale, Arizona. The game will air on FOX Sunday Feb. 13.
Jordin has a special relationship with football, beginning with her father, Phillippi Sparks, who played the cornerback position for the New York Giants from 1992-1999. Additionally, he played one season with the Dallas Cowboys.
After his football career ended, he moved back to Arizona where he grew up. Jordin spent her childhood there. Anytime the Super Bowl plays in Glendale, she is super pumped. In fact, in 2008, Jordin sang the National Anthem there for Super Bowl XLII.
Listen to the full version of Jordin Sparks' "Stadiums" below
Jordin set as Super Bowl "in-game host"
Additionally, Jordin will serve as the Super Bowl "in-game host" on Sunday. "This AZ girl is coming home!!!" Jordin announced on Instagram. "Beyond excited to be your #SBLVII in-stadium host at this weekend's game! Chiefs, Eagles…who ever you got—I'm excited to be there with you through it ALL! This stadium holds a special place in my heart. ? See you Sunday, Arizona!!!"
The Super Bowl HalfTime Show will feature R&B star Rihanna. Before the game, country music star Chris Stapleton will sing the anthem, while Babyface will sing "America The Beautiful." Sheryl Lee Ralph, will sing "Lift Every Voice and Sing."