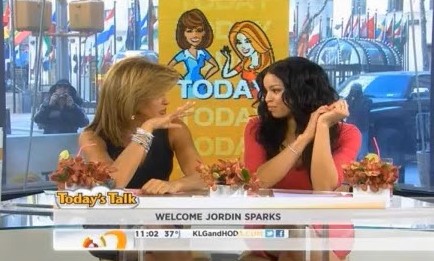 Jordin Sparks sat in for Kathie Lee Gifford in the Kathie Lee and Hoda hour of the Today Show. She talked about Idol, working with Whitney Houston, her favorite songs and more.
Going back to Idol makes her nervous. And did we know her parents weren't together any more? She sang little snippets of songs, including her single "I Am Woman". And she talked a little about her BOYFRIEND, singer Jason Derulo. She knew him for a couple of years, but "it came out of nowhere".
Hm. She still wears her promise ring–not everyday. But she's not making any promises. NOW she says you shouldn't do anything until you're ready. Marriage is not a requirement.
In Part 2, they discuss The Hollywood Buzz
Part 1
http://www.youtube.com/watch?v=wjNSHEsZ7io&feature=youtu.be
Part 2
http://youtu.be/Ox7yfslvxlU