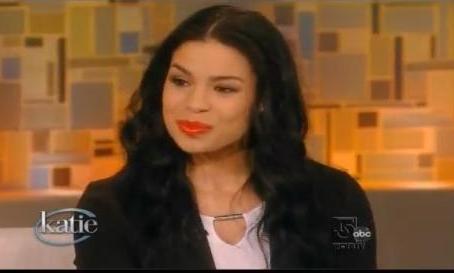 Jordin Sparks takes us inside the big Clive Davis Grammy Party for the Katie show. Today, Katie Couric devoted her entire afternoon talk show to Clive and his book. At one point, Clive revealed he was bisexual, and has had relationships with men since the 1980s. I didn't realize this was such a big secret? It's not, right?
Anyway, there was a ton of ass-kissing, with Usher dropping by to pay his respects. Jordin was their not only to laud Clive, but to talk about the late Whitney Houston, who died the day of Clive's 2012 Grammy party.
Here's a clip of Jordin interviewing celebrities such as Dave Grohl, Carly Rae Jepsen, Whiz Kahlifa and John Legend. After the clip, Jordin sat down with Katie to discuss Clive and share her memories of Whitney.
The last 25 minutes of the show were devoted to an Idol-like competition featuring 3 young singers (none of which were very good). Jordin and Clive served as judges.
Watch Jordin at the Clive Davis Grammy partyL