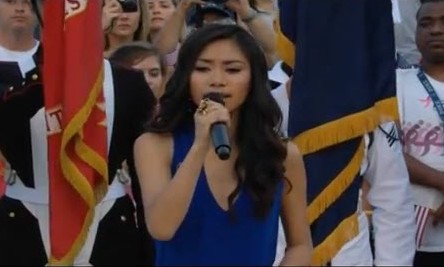 Severe storm warnings in Washington DC cut short the PBS Memorial Day Concert, but at least Jessica Sanchez got to sing the National Anthem to open the concert. Unfortunately, the show was stopped before she could appear again.
Daughtry was the first musical act. The band's hit "Home" was set against a backdrop of soldiers reuniting with their families.
The concert was interrupted at about the half way mark. First, host Gary Sinise, announced that the police were ordering the crowd to leave, but that the show would go on.  Approximately 10 minutes later, the concert was stopped altogether in the middle of Natalie Cole's performance.
Reportedly, it is now pounding rain in Washington DC.
The broadcast cut to a repeat of last year's concert.