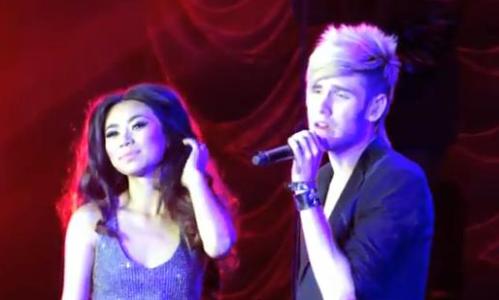 Jessica Sanchez performed at the Areneta Coliseum Thursday night (Feb 14) in Manila, Philippines for an extremely enthusiastic crowd.
It was a homecoming of sorts for the American Idol runner-up. Her mother's family hails from the Southeast Asian country. And, she's returning to the homeland after spending time there last fall performing a concert with her fellow season 11 Idols and taking part in various promotional opportunities.
American Idol alum, Colton Dixon was her opening act.
Jessica's set list included: Can't Take My Eyes off of You, Human Nature, Love on Top, Valerie, Someone Like You, Love the Way You Lie (with Colton), Ikaw, I Will Always Love you, Dance with My Father, Steal Away, And I Am Telling You, Nobdy's Supposed to Be Here, Fairytale and Jump In.
Check out a few of the videos here. There's more at Blujakalo
Can't Take My Eyes Off You
http://youtu.be/ssJwqu0xMGs
Jessica opened the show with a Four Season's cover by way of Lauren Hill.
Valerie
http://youtu.be/VZVk5V4z01E
Love the Way You Lie with Colton Dixon
Ikaw
Jessica performed a popular Filipino cover. The crowd went crazy!
http://youtu.be/y5yGSO_6in8
Fairytale
Here is the song Jessica debuted last summer at the iHeartradio concert. The tune will appear on her upcoming album.