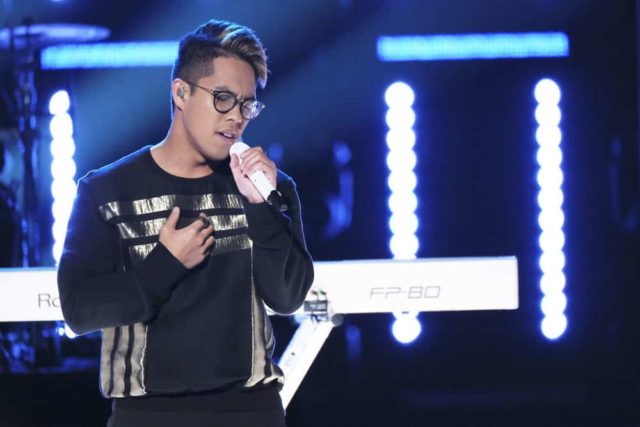 Team Kelly Clarkson standout Jej Vinson just released a new single "Tasty."
The Philippines native was surprisingly eliminated from The Voice season 16 at the Top 13. Boasting impressive Youtube number, The Voice fans assumed he had a good shot to make the final.
Regardless, Jej isn't allowing that early elimination to get in the way of his career. Less than a week after The Voice finale, the singer dropped a new single, co-written with Shilpa Sadagopan. Jej wrote on Instagram:
Good morning!! "tasty" is out now everywhere! super proud of the work that was put into this track by an amazing team. my co-writer, @shilpasadagopan, who is brilliant and i always love writing with her. to @zmcd_music and @chasejacksonvibes for bringing this track to life. thank u guys so much for your talents. to @anothermichael for capturing and editing this cover art! ur amazing man. to @amandagnewman for being an incredible manager. you always got my back. last but not the least, to you guys, for already streaming and supporting my music so much. i wouldn't be able to do what i'm doing now without your support and encouragement. here's to "tasty"! LYRIC VIDEO out tomorrow. more originals coming ur way.
https://www.instagram.com/p/BxxdjOwhLWN/?utm_source=ig_web_copy_link
Check out the lyric video for "Tasty" here:
Additionally, on Friday (May 24) Kelly played a charity event at The Venetian in Las Vegas. As she often does, The Voice coach and OG American Idol winner invited a few of her former and current team members to share the stage.  Jej joined Kelly for a duet of Brian McKnight and Mariah Carey's "Whenever You Call." Kelly reveals that she had the song on hold for their finale duet. Sads! Also performing with Kelly–season 14 winner Brynn Cartelli and fellow season 16 artist Presley Tennant.