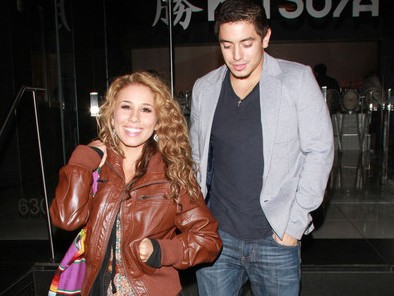 Rumors have swirled for months that American Idol 10 alums Stefano Langone and Haley Reinhart were an item. Yes. DATING.  Not that I gave it much thought. But since James Durbin just outed them in an interview? WHY NOT CREATE A POST!
Yep. In an interview with KBFX in Bakersfield, Calif, American Idol alum James Durbin lets the cat out of the bag.  James, talking about his recent wedding to his long-time girlfriend, Heidi Lowe, reveals that his best man, Stefano was not flying solo.  "Stefano is now dating Haley," says James, "They've been dating for awhile, so she was there with Stefano."
James also talks about holding the wedding 18 minutes so that another Season 10 pal,  Casey Abrams, could find his way to the chapel!
Casey Abrams Signs a Record Deal!
There is a Facebook page of James and Heidi wedding photos at James Everett Photography that include pics of Haley, Stefano and Casey.
Watch the interview below. James also talks about his new record, Memories of a Beautiful Disaster, and more.