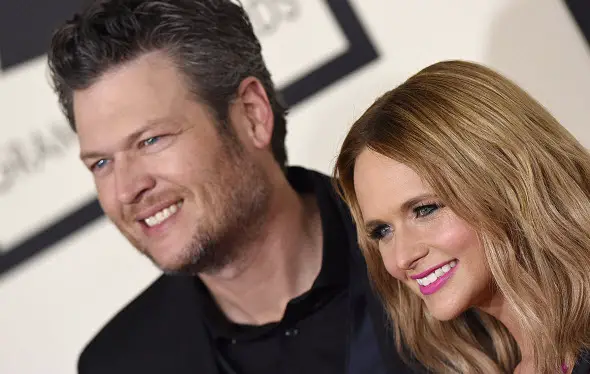 In the aftermath of the Blake Shelton/Miranda Lambert bust up, there have been reports in the entertainment press, claiming sources that say Blake filed for divorce from Miranda after finding out that she cheated on him.  The reports also insist that  Blake never stepped out on Miranda.
Could The Voice coach be that bitchy to send his friends out to smear his now ex-wife? It's true, the public would generally assume if there was cheating involved in the break up, Blake would be the guilty party. But if these "sources," are indeed coming from Blake's camp, it's a bitter and mean move that could back fire on the singer.
The latest is from Access Hollywood, which just happens to be owned by NBC Universal, the company that broadcasts The Voice, on which Blake works as a coach. The more you know!
According to the source, the country songstress had a "long time affair" with someone in the music business and when Blake confronted her about it, she admitted to it. It was then that the "Voice" coach decided to end the marriage.
And of course, the "source" makes sure to stress that Blake never cheated. They also shot down the notion that differing opinions on having children caused the split.
After TMZ namechecked Chris Young in a report, insinuating Blake suspected he was involved with his wife, the country singer issued a statement.
"I don't normally address gossip," he said. "But in this case I will. My name has been mentioned as a contributing factor in Blake and Miranda's divorce. That is totally FALSE. They are both my friends and I would not betray that friendship."
Blake filed for divorce on July 6. Two days later, Miranda cancelled a concert in Calgary, citing  strained vocal chords, according to US Magazine. The divorce became final on July 20, the day the split was announced.
In the meantime, Blake is back to work as coach on The Voice 8.  He tweeted:
Back to work filming @NBCTheVoice today. Wonder if I'm gonna be the only one who rolls in a full ice chest….?

— Blake Shelton (@blakeshelton) July 22, 2015