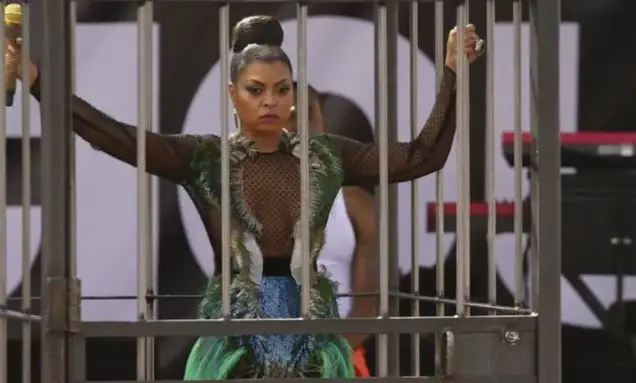 The first Empire season 2 promo is here!  The season left off with Lucious incarcerated for the murder of his former friend, Bunkie, Empire executive, Vernon Taylor, dead at the hands of Andre's (Trai Byers) wife Rhonda (Kaitlin Doubleday), and a Lyon house divided.
The scant 15 second clip teases what we can expect when the Lyon clan returns to our TV.  Lucious (Terrence Howard) looks at home in orange. Cookie (Emmy nominee, Taraji P. Henson) visits him in jail, which is more than Lucious did during her 17 year turn in the slammer. Jamal (Jussie Smollet) headlines a huge "Free Lucious" concert. There's Cookie in a cage with a mic in her hand. That looks crazy!
Alliances! Is that Cookie's arch enemy, Anika Calhoun (Grace Gealey), walking alongside her and sons Andre and Hakeem (Bryshere Y. Gray)? Why, yes it is. I can't imagine that truce lasting TOO long. And is that Anika handing something off to Hakeem? What could those two be cooking up?
We'll have to wait until September 23 to find out. BOO. We do know that the series will pick up three months after Lucious is arrested for the murder of his former friend, Bunkie. Cookie and her allies in the Lyon family will make a desperate attempt to seize control of the company. But in the meantime, a bigger threat will emerge that forces the family to unite.
Guest stars joining Empire season 2 include Marisa Tomei, as Mimi Whiteman, a billionaire venture capitalist who has a taste for fine ladies, and pop singer and former X Factor judge, Kelly Rowland, who will pop in as Lucious' mom in flashbacks.  The Wire's Andre Royo has been cast in the recurring role of Thirsty Rawlings, the unethical and shady lawyer who works with the imprisoned Lucious.  Chris Rock, Alicia Keys and Lenny Kravitz are also set to guest star.
Watch the new Empire season 2 promo right here.
https://youtu.be/Js-_pJuQ5zg