Tonight, two more contestants will be eliminated from The Voice. Tune in on NBC at 9/8c. The So You Think You Can Dance auditions head to Boston MA! Watch at 8/7c pm on FOX. And make sure to join our live blogs!
David Cook joins Zac Maloy, Andy Skib and more for a benefit to aid tornado victims of Oklahoma. Titles "Okies and Friends," the concert will take place at the Tin Roof in Nashville. Doors at 6 pm. All proceeds will go to the Red Cross. David says, "You should go to this if you wanna be super cool." More info HERE.
Candice Glover Visits Disney
Candice Glover spent the day at Disney World yesterday, having fun a the park and shooting spots for the American Idol Experience. She dropped in to visit the attraction. Here she is with Mickey Mouse.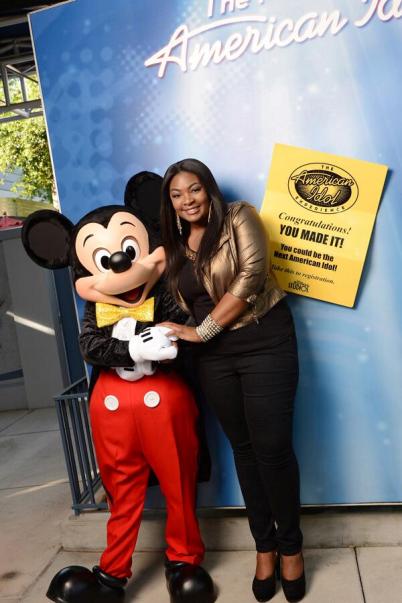 David Archuleta – A Backstory on the Song Broken
David Archuleta talks about the genesis of his song "Broken".
Ace Young and Diana DeGarmo: A Special Inside Look at Their Wedding Day Prep! – It's almost time for Ace Young and Diana DeGarmo to tie the knot! But before the American Idol alums say "I do" June 1, they're taking us behind the scenes with an exclusive sneak peek at their wedding day prep. During our week of wedding bliss with the couple, we follow Ace, Diana and their wedding planner Renée Strauss as they take a look at various wedding locations in Los Angeles, watch Diana as she chooses a surprise custom cake for her hubby-to-be, and get a preview of the songstress wearing her gorgeous wedding dress. – Read more at EOnline
CARRIE UNDERWOOD BLOWS AWAY FANS ACROSS THREE CONTINENTS AND SIX COUNTRIES AS HER "BLOWN AWAY TOUR" WRAPS WITH ONE MILLION FANS ATTENDING – Six-time Grammy winner Carrie Underwood wrapped her international "Blown Away Tour" last week having performed 112 shows in 110 cities before one million fans across three continents and six countries since its launch last spring. Carrie's headline arena tour played throughout the United States as well as Canada, Ireland, England, Northern Ireland and Australia, boasting mostly sell-outs in 2012 and all sell-outs during the 2013 leg. – Read more at CarrieUnderwoodOfficial
Attention McHobbits: Interview With Terry McDermott of The Voice – In honor of McMonday, The Voice Runner Up Terry McDermott shares his thoughts on this year's contestants; the state of the music industry, and his loyal legion of fans who call themselves The McHobbits. McDermott has navigated his journey from Scotland to New Orleans to Hollywood with a sense of humor that came across on the hit NBC show, all I'd add is that in real life he's much taller than any Hobbit I know. – Read more at The Huffington Post
Back to the day job: Keith Urban announces new album as he waits on word from 'American Idol' – Keith Urban is no different than the rest of us: He has no idea what's going on with "American Idol." "I have no official information of anything," the 45-year-old country singer-guitarist said. "I'm pretty much in the same boat as everybody else here with the rumors that have been floating around. I don't know anything more about what's happening next season. It was like this before I signed on … so it's not unusual for the 'Idol' folks to be in this place of figuring out what they want to do, then they always pull it together." Urban's got plenty to distract him while he waits. The Australian country music star has set a Sept. 10 release date for his new album, "Fuse," and that means he's got to finish it. Urban thinks he's got a few months of work left to do on the follow-up to 2010's "Get Closer," but leaves on tour in mid-July and hasn't left himself much of a cushion. – Read more at The Washington Post
'Bachelorette': Desiree's fashion risks, how she dresses depending on the guy, and the gown she designed herself – "Desiree is very fun. She has a touch of tomboy during the day. She's very athletic, she likes to do every sport that all the boys are doing. Then at night, she likes to pull out the super glam sexy short dresses. She's got those legs that are killer when she's in a short dress," says wardrobe head Cary Fetman, who has been dressing Bachelorettes since 2008. "She's also more classic, she doesn't wear a lot of jewelry. Last season I could pile as many necklaces [on Emily Maynard] as I wanted to, but this Bachelorette brings something different as to how to she carries the clothes." – Read more at Entertainment Weekly
Goodbye Norma Jean – Bombshell songwriters talk music for Smash, song by song. A must read for fans of the show! suppose the greatest frustration Scott & I felt were how the actual moments in Marilyn Monroe's life that led us to write our songs were almost never explained in the episodes, which was a shame for it would have enriched the storylines of Tom & Julia and made many of our choices clearer and maybe made our songs more meaningful.
So, what follows is the story of why and how our songs were written. – Read more at Terrace Productions.com