TONIGHT! American Idol! The Top 10 Girls take the stage in Las Vegas to fight for a spot in the Top 20. Tune into FOX at 8/7c and join our live blog.
Smash airs tonight on NBC at 10/9c pm.
Carly Rae Jepsen Cancels Boy Scouts of America Concert to Support Gay Community – Carly Rae Jepsen has joined the group Train in pulling out of July's Boy Scouts of America Jamboree concert in West Virginia, the "Call Me Maybe" singer announced via Twitter on Tuesday, March 5. Citing the organization's refusal to allow openly gay or transgender candidates to join, Jepsen explained her decision in a series of tweets. "As an artist who believes in equality for all people, I will not be participating in the Boy Scouts of America Jamboree this summer," the 27-year-old Canadian pop star wrote. "I always have and will continue to support the LGBT community on a global level and stay informed on the ever changing landscape in the ongoing battle for gay rights in this country and across the globe." – Read more at US Magazine
Lauren Alaina was invited to become an honorary "Friends and Family" member of the Country Music Hall of Fame® and Museum before her performance as part of the Museum's Sixth Annual Ford Community Day on Saturday (Feb. 23). – See the Photo at Music Row
'American Idol's' Devin Velez, singing since he was a toddler – Home videos of Devin Velez show the "American Idol" contestant belting out songs as a toddler — on pitch and in the right key. "I'd be in my playroom just singing my life away," said Velez, whose vocal talent can be chalked up to nature and nurture. – Read more at the Chicago Sun Times
Is this Woodville native the next American Idol? – Beverly Mire will be sitting in her brown leather recliner tonight, tuned into "American Idol" and cheering on her granddaughter, Kree Harrsion. Harrison, a Woodville native, has made it to the Top 20 on the long-running Fox singing competition. Harrison, 22, began her singing career when she asked the pastor of Agape Church in Colmesneil if she could sing a song for the congregation.  She was 3. Mire said she was shocked to see her granddaughter belt out a tune at such a young age. Soon after, Harrison began performing in local rodeos and competitions, garnering the attention of a Nashville producer. "When she was around 9 or 10, a couple of music men from Nashville heard about her and asked if they could move her to Nashville," Mire said. Read more at Beaumont Enterprise
Here's a photo Phillip Phillips tweeted in Paris
The American Idol winner is in Paris and London promoting his music!
Elise Testone Gets Ready to Record Her Album!
"Starting the recording process!" the Season 11 alum tweets.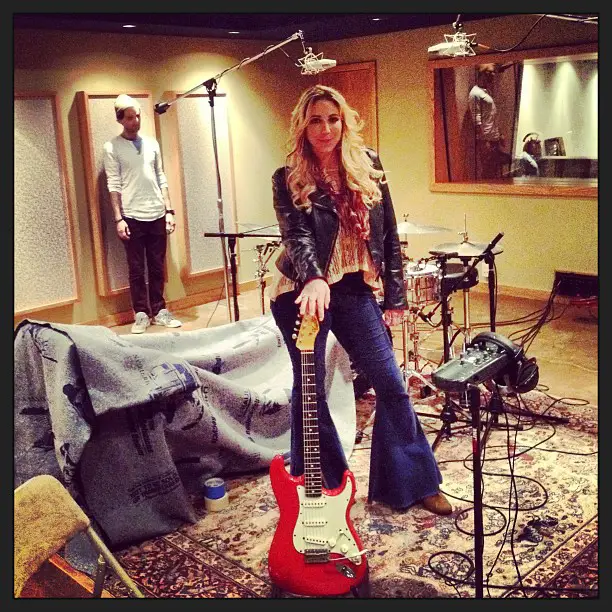 Allison Iraheata Looking Shocked and Surprised
"This is my "I CAN'T BELIEVE @HaloCircus IS OVER A 1000 FOLLOWERS" face," tweets the season 8 alum. Allison is the new singer for the band, and she encourages you all to follow them!
USO Tour Enables Participant to Reunite with Deployed Brother – "I was really excited when I was told there was a chance David might make it to Bagram Air Base, … but Bagram came and went and he was unable to get there," said Degarmo, whose fiancé Ace Young, another American Idol star, was also on the tour. "I was truly disappointed, but still did the best I could at the show for those troops who were there." While DeGarmo was unaware of the logistical problems preventing her brother from getting from Kandahar to Bagram, she had understood there was a chance he wouldn't be able to make it. Those logistical issues were easily overcome, however, in getting to Camp Bastion — something she wasn't expecting. So, after landing on the tarmac at Camp Bastion, DeGarmo and the other athletes and performers walked down the steps of the C-17 Globemaster III to their greeting party, which included her brother. – Read more at US Department of Defense
'Voice' Star Jamar Rogers Rocks At Yahoo! – Jamar Rogers was one of the breakout stars of "The Voice" Season 2–and if the show rules that later took effect in Season 3 (no team quotas, iTunes sales carrying more weight) had existed that season, there's little doubt that he would've made it to the finale alongside his worthy Team Cee Lo comrade, Juliet Simms. Conspiracy theorists have even suggested that the rule changes of Season 3 were created simply to prevent contestants as talented as Jamar from being robbed in the future. It's not that implausible a theory, really. So, is it too late to demand a Season 2 vote recount? – Read more at Yahoo
'Glee' and 'Archie' bridge comics, TV in crossover – PHILADELPHIA (AP) — Blaine Anderson and Kevin Keller? Betty Cooper and Noah Puckerman? Things are not as they usually are in the halls of William McKinley and Riverdale high schools. And that's just the way it should be, said Roberto Aguirre-Sacasa, who writes for "Glee" and penned the four-issue story arc, "Archie Meets Glee," that sees Riverdale and McKinley's famous — and vocally talented — students come together in a crossover crash that blends the snark of the television show and the long-standing wholesomeness of Archie, Jughead and Betty, among others. The two worlds combine this week in the pages of "Archie Comics" No. 641, a story drawn by artist Dan Parent that extends through issue 644. Show creator Ryan Murphy said the story honors and celebrates "the two worlds. Not just their similarities, but their differences, which I've think we've done." – Read more at Yahoo
Mel B BOOED!!! On 'America's Got Talent' – Rough start for Mel B, one of 2 new judges on "America's Got Talent" — she was loudly booed during the first day of taping for daring to diss brass music.
Mel was in New Orleans Monday, along with Howie Mandel, Howard Stern and Heidi Klum. The first act of the day was Lagniappe, a very popular New Orleans brass band. Mel told the band … she's not a fan of brass music. Bad move in The Big Easy. The audience went nuts on her, screaming "Go home," and "No respect." Mel became unglued, and leaned over to Howie, who comforted her. Read more at TMZ
Jane Lynch Raps Nicki Minaj's "Super Bass" – CONAN on TBS
Smash's Jack Davenport on Derek's New Vulnerability and Dysfunctional Relationship with Ivy – Cut to one season later and Derek has already lost one job, a remake of The Wiz with Tony winner Ronnie Moore (Jennifer Hudson), his other gig, Bombshell, has been stalled for weeks, and he's been accused of sexual harassment by several stage actresses. Oh, and did we mention that he and Ivy are dunzo? "They almost do a role reversal at one point where she's completely in control and he's almost a little puppy dog for her," Hilty told TVGuide.com last month. "It's a really, really interesting relationship." TVGuide.com spoke with Davenport about Derek's surprising new vulnerability, his dysfunctional relationship with Ivy and why Smash 2.0 really is bigger and better: – Read more at TV Guide