Tonight, the first group of 10 girls take the stage in Las Vegas to begin the American Idol Top 40 semi-final round. 8/7c FOX. We'll be live blogging of course.
Survivor Caramoan airs tonight on CBS at 8/7c PM. Check out Eric's recap later
Nashville airs tonight at 10 pm on NBC, Check out Windmills recap later
Idol performances today:
Constantine Maroulis performs in Jekyll & Hyde the Musical at the Pantages Theatre in Los Angeles, CA.
Daughtry performs at the BB&T Center in Sunrise, FL.
Kris Allen performs at Wheeler Opera House in Aspen, CO.
Adam Lambert performs at Shibuya Kokaido in Tokyo, Japan.
Lee Dewyze performs at the Coach House in San Juan Capistrano, CA.
Casey James performs at the Tin Roof in Louisville, KY.
Phillip Phillips performs at Niagara Fallsview Casino Resort in Niagara Falls, ON, Canada.
Adam Lambert explains why the Philippines Concert Dates Were Cancelled – Via twitter: "Sad bout Manila. Wanted to play show but due to the non-fulfillment of contractual obligations of the local promoter, we had to cancel it."
Country Music Hall of Fame Admission Is Free Saturday; Josh Turner and Lauren Alaina to Perform – Josh Turner and Lauren Alaina are set to perform and sign autographs for fans at the Country Music Hall of Fame and Museum's sixth annual Ford Community Day on Saturday. Admission to the museum is free to everyone that day, thanks to a partnership with the Ford Motor Company Fund. However, passes are required for certain events. Complete details are available at CountryMusicHallofFame.org. – Read more at WWGP1500
Oscars: 'Les Mis' Cast, Jennifer Hudson, Catherine Zeta-Jones To Sing Live In Musicals Tribute – EXCLUSIVE: Jennifer Hudson for Dreamgirls and Catherine Zeta-Jones for Chicago will be performing their Oscar-winning roles on Sunday's Academy Awards as part of a celebration honoring the resurgence of movie musicals of the last decade. In the same segment revisiting their roles from this year's Best Picture contender Les Miserables will be several of the film's key cast members including Oscar nominees Hugh Jackman and Anne Hathaway along with Russell Crowe, Eddie Redmayne, Aaron Tevit, Samantha Barks, and Helena Bonham Carter. This year's Oscar show producers Craig Zadan and Neil Meron, who last month announced the musical tribute would be part of their show, have kept the participants who will be singing a secret until finally first breaking the news to Deadline this morning. (They also produce Smash…so there you go) – Read more at Deadline
'X Factor's' Fifth Harmony Hit the Studio in L.A. for First Sessions – After two months apart, The X Factor finalists Fifth Harmony are back in unison as they hit the recording studio for their first sessions as an official group. "I think we're definitely going into the pop lane," says group member Ally Brooke in an interview with The Hollywood Reporter, with the other girls adding that they hope to add an R&B edge to their sound. Says Dinah Jane Hansen, "We hope to give them a booty pop madness album, 'cause that's what we gonna do!" The third-place finishers on the Fox reality competition's second season made it official with L.A. Reid's Epic Records (via Simon Cowell's Syco Music), as THR exclusively reported on Jan. 17, but Lauren Jauregui reveals that Cowell and Reid assured the group that they would have a deal just hours after Tate Stevens was crowned the show's winner. – Read more at The Hollywood Reporter
Adam Lambert Tweeted a Few Photos from his Japanese Concerts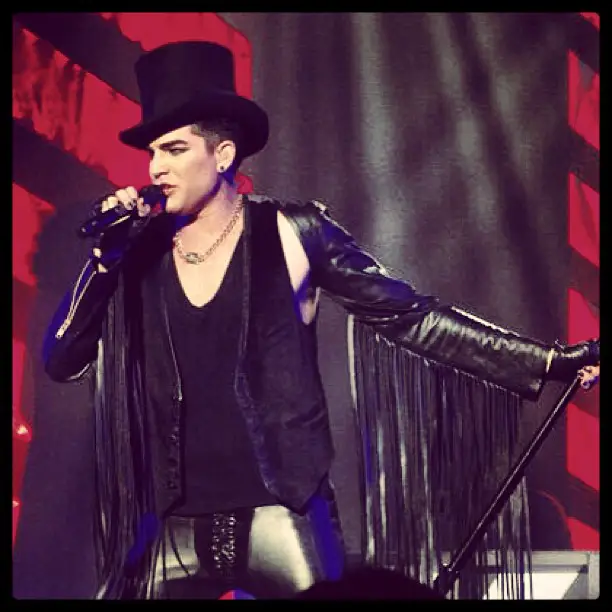 With 'Idol' win and hit record, Phillip Phillips keeps pushing forward – Phillip Phillips is looking for something to do. It's a rare day off for the singer whose life has been in whirlwind mode since he was crowned the victor of the 11th season of "American Idol" in May. Following his win, he hit the road with the "Idol" summer tour, which launched in Detroit in July and played nearly 50 dates before wrapping up in September. In November, Phillips released his debut album, "The World From the Side of the Moon," which debuted at No. 4 and sold 169,000 copies its first week. Rather than falling off the charts like some recent "Idol" winners, Phillips' album has showed impressive staying power, selling nearly 700,000 copies to date. – Detroit News
Nashville Exclusive: The O.C.'s Chris Carmack Moves in as Scarlett and Gunnar's [Spoiler] – Welcome to Nashville, bitch. Chris Carmack is joining ABC's country-music drama for the last six episodes of its freshman season, TVLine has learned exclusively. The O.C. grad will recur as Will, a new neighbor who befriends Scarlett and her hunky roommate. (And while there's no confirmation that Carmack's neighborino will be a threat to Gunnar and Scarlett's burgeoning attraction/musical partnership, come on. We've seen those abs. We've got a good idea of how this song ends.) – Read more at TV Line