Hey Americans! Happy Presidents Day!
Haley Reinhart Heading to Japan – American Idol HALEY REINHART to perform April 13th at the Foster Festival Okinawa,Japan. presented by Mega Concerts. – Read more at Facebook
Adam Lambert – Adam Lambert Axes Philippines Gig – Pop star Adam Lambert has axed an upcoming gig in Philippines due to "unforeseen circumstances". The former American Idol contestant was due to perform at the Skydome venue in the capital city of Manila on 1 March (13), but he has now cancelled the show and fans are being offered refunds. A statement from SM Tickets, the promoters behind Lambert's show, reads, "Please be informed that due to unforeseen circumstances, (the) Adam Lambert concert on March 1, 2013 at… Skydome is cancelled." – Read more at Contact Music
'American Idol' winner Scotty McCreery visits with Aquarium of Niagara stars–  Country music singer Scotty McCreery got up close and personal with some of the Aquarium of Niagara's biggest stars on Friday, Feb. 15. McCreery was in town for a performance at the Rapids Theater, which marked the second stop on his Weekend Road Trip tour. Just after the 1 p.m. sea lion show, McCreery, his band, management and family arrived on site at the Aquarium of Niagara. The group was greeted by AON personnel, and split into smaller groups to enjoy a VIP experience like never before. McCreery's first encounter was on stage with "Arie," a 4-year-old female California sea lion.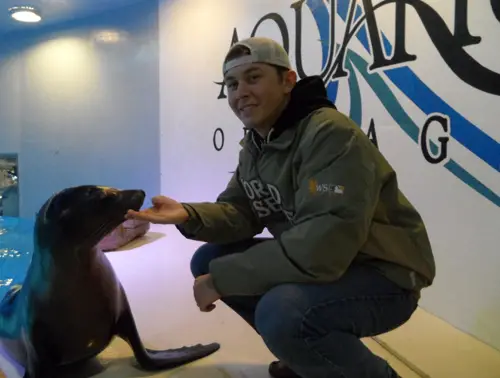 Read more at NFP
Q&A With Jason Castro – A lot has changed since Jason Castro released his eponymous debut album following his fourth place finish on the seventh season of American Idol. He has a new wife, a new baby, a new record label and, now, a brand new album. Castro's sound hasn't changed much – he's still a soulful singer-songwriter with an affinity for acoustic melodies – but this time around his message is much different. – Read more at Breathecast
Katharine McPhee Of Smash Won't Bash Her Idol Past
Local American Idol Semifinalist Reflects on Church Roots – She's San Antonio's last remaining contestant on American Idol. But before she heads back to the competition, Cristabel Clack treated her church to one final performance. These services that Clack started with her husband have helped showcase her "Idol-worthy" talent. "I've been doing it my entire life, you know, I've been singing in church," said Clack. "Born and raised in church." From the early audition rounds of Idol to the golden ticket to Hollywood — to now as one of the Top 20 Girls of Season 12 — the 29-year-old San Antonio native and mother of three knows what's gotten her this far. "Being on stage all the time, Sunday in, Sunday out — I think it has definitely prepared me." – Read more at FOX29
'Harlem Shake': The Making and Monetizing of Baauer's Viral Hit – But also aiding in the song's sales and ultimate revenue potential is YouTube's Content ID system and a company called INDmusic, which inked a deal with Mad Decent in early 2012 to help monetize the label's video views through pre-roll ads — like a Vevo for indies, essentially. Since last Thursday, Feb. 7, INDmusic and YouTube's automated ContentID have manually and automatically claimed over 4,000 user-uploaded videos featuring the song totaling over 30 million views by the afternoon of Feb. 14, according to YouTube's Vivian Lewit, director of music content partnerships. Content ID allows rights holders to receive reference files on content they own, metadata describing that content and policies to help them choose what they want YouTube to do with that content — monetize, track, or block it — once they find videos that match. – Read more at Billboard
WGA Awards: 'Zero Dark Thirty,' 'Argo' Take Top Screenplay Honors – Mark Boal's Zero Dark Thirty and Chris Terrio's Argo, two movies inspired by America's involvement in the Middle East, won top honors at the 2013 Writers Guild Awards. Boal was in the midst of his acceptance speech for the original screenplay prize when he realized that Kathryn Bigelow, the film's director, had slipped into the ballroom. "Kathryn," he said, "you took this script, and you made it live and breathe and fly and you led all of us unflinchingly and bravely to a place of truth and beauty." – Read more at Hollywood Reporter
Richard Marx Apologizes For Comparing Dr. Drew To Jack Kevorkian In Wake Of Mindy McCready's Suicide – Singer Richard Marx apologized Monday morning for his shocking comparison of Dr. Drew Pinsky to the late Dr. Jack Kevorkian, who was often referred to as "Doctor Death" for his role in assisted suicides. Writing his mea culpa on Twitter Monday, Marx said, "I went too far with the Kevorkian crack. It is, however, my opinion that what Dr. D does is exploitation and his TV track record is not good." – Read more at RadarOnline
Justin Bieber & Patrick Carney: The Black Keys' Drummer Feuds With The Biebs On Twitter – At first Carney seemed remorseful, posting on his Twitter, "It's cool when you get cornered outside your hotel by a guy with a camera and they ask you a dumb question and then put it on TV. :(" He also responded to Bieber's comments with a sad face. Things took a turn, however, when Bieber's Beliebers started attacking Carney on Twitter, saying things like "he needs a punch in the face with a brick," " just die.. DIE," and accusing Carney of being a closeted gay man. Carney has now responded by changing his Twitter name to Justin Bieber and using a picture of The Biebs in hipster frames much like his own as his icon. He is responding to tweets of death threats from Biebers' fans and emulating the teen star with tweets reading, "To all my peoples U make make my life so full of swag. I swag out all day just thinking about all the swag u guys inspire me to swag with." – Read more at Huffington Post