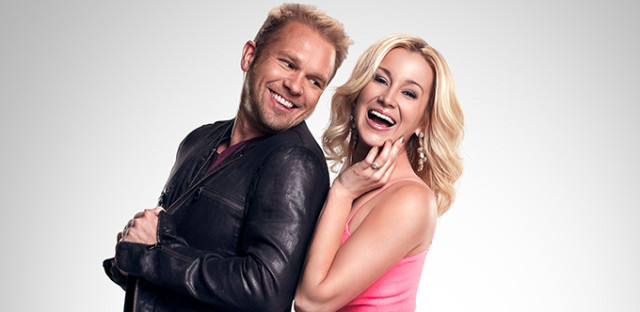 CMT announced the updated premiere for the docu-comedy I Love Kellie Pickler, starring American Idol 5 finalist and DWTS winner, Kellie Pickler and her husband, Nashville songwriter, Kyle Jacobs, is set for Thursday, November 5 at 10 pm ET/PT.
American Idol's Ryan Seacrest is executive producing. Reality TV or the half-hour comedy format is really where Kellie belongs. If Seacrest does it right, the show could be hilarious. Or it could be fake as hell. Hope it's the former. Fingers crossed the show lasts longer than Kellie's last project, Knock Knock Live. (2 episodes!)
"When my husband co-wrote a song titled 'Ain't No Cure for Crazy' and said it was meant just for me, I had to wonder," said Kellie in a press release. "We know how crazy our life is with both of us being in the entertainment business and all that it entails while trying to maintain a somewhat 'normal' marriage. It'll be fun to let the rest of the world see into that window of our life."
"Kellie and I have been together almost 8 years now, and we have written songs together and worked in the studio together but this is a whole new, crazy experience!" said Kyle. "I hope the cameras were able to capture how much we love each other, how much we love to laugh, and how much we love living life with our friends…because to us, our friends are family. That's who we are and what we want our viewers to experience with us."
"Since her days on 'American Idol' Kellie has captured the hearts of many with her pretty smiles, good humor and spirited personality," said Executive Producer Ryan Seacrest. "Like Kellie herself, this new show has lots of heart. CMT is the perfect home for this show, which will take audiences on a relatable journey with Kellie and her husband Kyle as they navigate life through work, music, friends and family."
Recognized and beloved for her fun-loving personality, uniquely hysterical witticisms and Southern charm, "I Love Kellie Pickler" will follow Kellie as she navigates her madcap relationships with friends, family and the unpredictability of couple hood alongside her husband, Kyle Jacobs, her complete opposite.
"I Love Kellie Pickler" is produced by Ryan Seacrest Productions with executive producers Ryan Seacrest, Eugene Young, Rabih Gholam, Lisa Tucker, Noah Moskin, Kellie Pickler and Kyle Jacobs. Jayson Dinsmore, Morgan Selzer and Matthew Trierweiler executive produce for CMT.
Check out Kellie and Kyle's twitter announcement below.
Big news from @KelliePickler and @KyleCJacobs! #ILoveKP ??? https://t.co/iD3OcTafC7

— CMT (@CMT) September 24, 2015