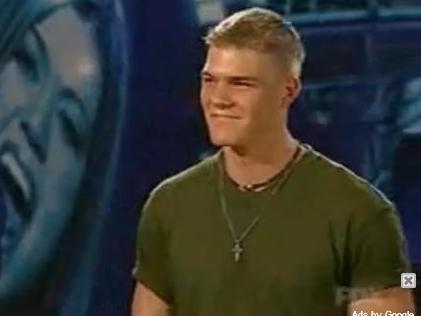 I have to confess that my only knowledge of The Hunger Games is what I read on my twitter feed. And since I have several Hunger Games fantatics on my feed,  I've learned quite a lot  for someone who has neither read the best selling young adult book series or seen the first movie, released earlier this year.
I've had ALL THREE BOOKS spoiled for me, just by reading my twitter feed! Thanks guys!
But I digress. The Hunger Games movie sequel, The Hunger Games: Catching Fire, is currently being cast. And wouldn't you know, there is an American Idol connection!
Alan Ritchson, who auditioned for American Idol in Season 3, has been cast, according to The Hollywood Reporter, as Gloss, a former Career tribute from District who along with his sister Cashmere competes in the Quarter Quell.
His latest roles included starring in the CBS comedy pilot Super Fun Night, and playing Thad Castle on Blue Mountain State, which aired on Spike TV for three seasons. He also starred as Aquaman on the TV series, Smallville.
Let's watch his Season 3 audition on Idol, where he was a Top 87 contestant,  before being cut in Hollywood (according to Wiki!). The lulz come as he performs a strip tease for a totally smitten Paula Abdul in order to curry her favor. This is quite obviously pre-Corey Clark, when the show had no qualms about shipping her with hopefuls half her age. "He's too young for you, Paula," warns Randy Jackson. Oy.
At the time I thought Alan came off as the biggest douche to ever douchbag. But I'll leave it at that.Earning a role in a huge movie franchise means he'll eventually amass an Army of stans who will think nothing of killing me if I so much as give him the slightest side eye. I might be a little scared. Heh.
Enjoy!