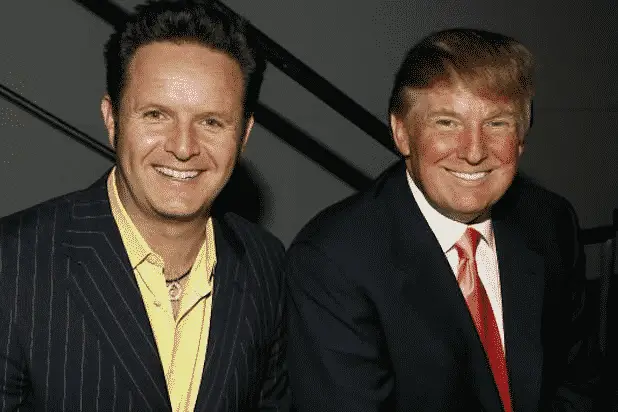 The New York Times got a hold of Donald Trump's tax returns, and one of the stories the numbers tell involves The Apprentice. The Voice and Survivor producer, Mark Burnett, approached Trump with an idea. Burnett would create a reality show starring Trump as a "successful" mogul, looking for talent to work for his organization.
The irony, while Burnett created an image of incredible competence and success around Trump, his taxes from the era told a different story. In fact, Burnett literally offered Trump a lifeline. He was coming to the end of money he inherited. Trump burned through roughly a half a million dollars that his father left him.
Months after that inaugural episode in January 2004, Mr. Trump filed his individual tax return reporting $89.9 million in net losses from his core businesses for the prior year. The red ink spilled from everywhere, even as American television audiences saw him as a savvy business mogul with the Midas touch.

Some of Mr. Burnett's staff members wondered how a wealthy businessman supposedly running a real estate empire could spare the time, but they soon discovered that not everything in Mr. Trump's world was as it appeared.

"We walked through the offices and saw chipped furniture," Bill Pruitt, one of the producers, told The New Yorker in 2018. "We saw a crumbling empire at every turn. Our job was to make it seem otherwise."

Mr. Burnett wasted no time spinning the illusion of a successful and high-minded Mr. Trump, telling The Times in October 2003 that the new show was all about "Donald Trump giving back" by educating the public on how his can-do spirit had provided jobs and economic security.

"What makes the world a safe place right now?" Mr. Burnett said. "I think it's American dollars, which come from taxes, which come because of Donald Trump."
Trump was not only earning a salary as a cast member, but had a 50% stake in the show, including lucrative product placements.
According to the NYT, While the tax returns show that he earned some $197 million directly from The Apprentice over 16 years, they also reveal that an additional $230 million flowed from the fame associated with it.
Is Voice Producer Mark Burnett Responsible for Donald Trump Presidency?
Some of Trump's endorsements included: $500,000 to pitch Double Stuf Oreos and Domino's Pizza. $850,000 to push laundry detergent. Plus, seven-figure licensing deals with hotel builders, "some with murky backgrounds, in former Soviet republics and other developing countries." But most odious, there were schemes that exploited misplaced trust in the TV version of Trump, who, "off camera, peddled worthless get-rich-quick nostrums like "Donald Trump Way to Wealth" seminars that promised initiation into 'the secrets and strategies that have made Donald Trump a billionaire.'"
He made $5.2 million from 11 different ad campaigns and speaking gigs, all propelled by his growing popularity as a reality-TV businessman.
He was raking in so much money from The Apprentice, that for a few years, Trump paid taxes (after many years of 0 taxes after his bankruptcies).
After netting $11.9 million from the show in its first year, he really hit the jackpot in 2005 with $47.8 million, the tax records show. He made so much that over three years he paid a total of $70.1 million in income taxes (later refunded, with interest, via an aggressive accounting maneuver now under audit).
Trump ripped off working people through multilevel marketing schemes.
…he teamed up with a multilevel marketing company, ACN, whose clients were told they could make a living from home by selling video phones, satellite television and other services. Investigated in several countries, ACN has left a trail of complaints that people were suckered into spending far more than they earned trying to peddle the company's products.

His tax returns reveal just how much the company was paying him for the happy talk: $8.8 million over 10 years, including $1 million in 2009 — the nadir of the Great Recession, when desperate people were drawn to promises of a fast payday. In fact, Mr. Trump actively capitalized on the economic anxiety.
He also sold vitamins, through a company that was rebranded The Trump Network. These schemes took place during the 2008 recession, and took advantage of average people's desperation.
…he gave speeches that persuaded some people to spend almost $500 for a starter kit and try to recruit friends and relatives. Mr. Trump said in a video that people "need a new dream."

"The Trump Network wants to give millions of people renewed hope, and with an exciting plan to opt out of the recession," he said.

Within a couple of years, the company behind the Trump Network, Ideal Health, was sold, and its owners declared bankruptcy. Still, it was long enough for Mr. Trump to make $2.6 million selling hope in a vitamin bottle, according to his tax records.
And of course, in 2016, Trump agreed to pay $25 million to settle litigation over Trump University, an unaccredited seminar that persuaded people to pay as much as $35,000 to learn the real estate trade.
Mr. Trump's profits from licensing deals, which in 2003 barely registered, climbed to $1.3 million two years later and then skyrocketed, hitting $29.7 million in 2010 before steadily declining, according to his tax records.
Once Trump became flush again, he began sinking money into golf courses. "Beginning in 2006, and continuing over the next decade," reports NYT "he would accumulate 11 more golf courses, forming a new core of what he describes as his empire." But, the courses "always seemed destined to become his next financial sand trap."
The amount of capital Mr. Trump has spent on his golf properties is staggering and has echoes of his earlier, ultimately disastrous, embrace of casinos. During a three-year period starting in 2014, he pumped $144.5 million into his Turnberry golf course in Scotland, his tax returns show, even as the property has continued booking losses year after year. He has put $213 million into his Doral resort in Florida, with similar results.

Meanwhile, Mr. Trump's main source of income — "The Apprentice" and licensing deals — went into a steep decline starting in 2011, falling, along with the show's ratings, from $51 million that year to $21 million by 2014, and eventually to less than $3 million in 2018.
During this time, Trump accrued debt that is coming due soon.
…as he was pouring money into the golf resorts, he also pulled money out of other places in ways that suggested an immediate need. In 2012, he borrowed $100 million against his equity in Trump Tower in Manhattan, one of his more valuable properties. A year later, he withdrew $95.8 million from his share of a real estate partnership that owns buildings in New York and California. And in 2014, he sold $98 million in stocks and bonds.

In addition, he has huge balances on loans, soon to come due, from Deutsche Bank, including $160 million on his Washington hotel in the Old Post Office building and $148 million on the Doral golf resort. Neither of those businesses is turning a profit.
Trump cut ties with NBC after he announced his candidacy in 2015 with racist comments about Mexicans. But last month he returned to his reality show roots, hiring producers from The Apprentice to work their magic on the RNC convention.