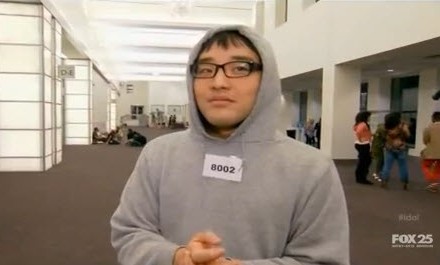 I've got tons of videos in tonight's Hollywood Part 2 post, but I think the hilarious and awesome Heejun Han deserves his very own post!
Heejun, Phillip Phillips and Deron Jackson made the mistake of inviting psycho cowboy dictator, Richie Law into their group. And with Richie's insistence on bizarre box steps and 4 kinds of harmonies, much hilarity ensued.
Heejun calls Richie cowboy because a. He doesn't remember his name and b. Richie inexplicably wears a big ole cowboy hat.  Heejan's dry snarks on the wild westerner are pretty epic.
Please, Idol gods, keep Heejun and his wicked sense of humor around for as long as possible.
Best lines:
"I don't know how they do it in cowboy town but this is not how we break it down man"
"The war is on…with cowboy"
"We started off really rough. Phillip had a kidney stone and Cowboy had a…brain stone I don't know what's going on with him."
"Now I have a very very bad perspective towards cowboys. Even Dallas Cowboys. Freaking cowboys."
Heejan Han Appreciation!