A full night of television: There's more family drama on tonight's Empire on FOX 9/8c PM. The Survivor 2nd chancers continue the competition 8/7c PM CBS. There's more Nashville at 10/9 pm on ABC.
Music stars Joe Jonas and Charlie Puth will appear live on ABC's "Good Morning America" on Tuesday, October 13 to announce nominees in six categories for the "2015 American Music Awards." Immediately following the broadcast, five additional categories will be announced exclusively via Snapchat (TheAMAs) in real time. The "2015 American Music Awards" will broadcast live from the Microsoft Theater in Los Angeles on Sunday, November 22 at 8:00pm ET on ABC. – via dc productions pr
Justin Guarini, Deborah Cox, Alex Brightman, and Tony Vincent Join Lineup for CELEBRITY KARAOKE! – Broadway rockers Justin Guarini, Deborah Cox, Alex Brightman, and Tony Vincent, are set to rock out at Clear Channel Spectacolor's annual "Celebrity Karaoke: A Epic Evening with the Stars" on Monday, October 5, 2015 at 7 p.m. (doors open at 6:30 p.m.) at Hard Rock Cafe New York in Times Square (1501 Broadway). Hosted and co-produced by Guarini, "Celebrity Karaoke" will kick off New York Comic Con's New York Super Week and gives fans the opportunity to perform with a live karaoke band alongside Broadway's brightest stars. Tickets are $40 for VIP floor seats and $25 for general admission, and are now on sale via TicketWeb here. – Broadway World
Adam Lambert Interview and Photo Shoot – Schön Magazine
Adam Lambert tweeted photos from his latest shoot with Schön magazine. Check out all the photos (mostly cheeky photos posing with the zebra head!) and interview t the publication's website.
Excerpt from the interview:
On the topic of narratives within the songs – are they real life scenarios? – Definitely. I'm pretty social. I like to drink, I like to go to clubs; I like to dance. I lived in Hollywood for 15 years and it's an interesting city: on one hand, it can be very glamorous and full of fantasy and possibility and you're always meeting beautiful people. But the flipside of that is that it can be very false and very hollow. I kind of wanted to talk about the dichotomy of that in the songs.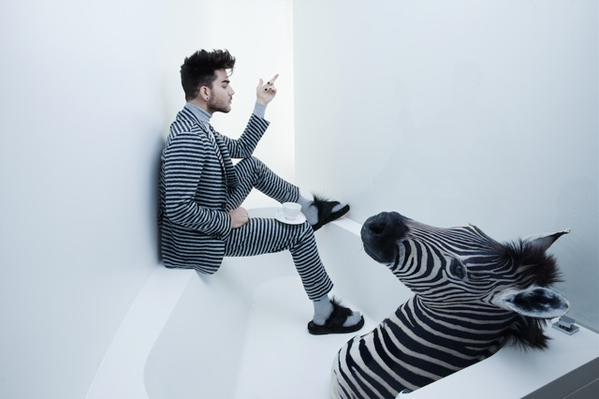 Out to lunch with Elizabeth Fradiani – As American Idol winner, Nick Fradiani is rocketing to music stardom. We are sitting down with his mom, Elizabeth Fradiani to learn more about her and the Fradiani family. Kara Sundlun goes out to lunch with Elizabeth at the Water's Edge in Westbrook. A restaurant that both her husband and son have performed at. – Watch the Video at WFSB.com
Cassadee Pope Is Taking Time Off To Write – "Over the last year I've been writing basically five days a week. It's really helped me figure out what I want to say, what the message is, and what I stand for," Pope says. Pope has been writing with pals Liz Rose, Sarah Buxton and Nathan Chapman. The writing process has helped the singer, who won Season Three of NBC's "The Voice," discover new things about herself. – Read more at Eagle Country Online
THE COLOR PURPLE's Jennifer Hudson Covers Time Out New York's Broadway Issue – Well then, Broadway shouldn't be that crazy! That's what I keep telling myself! But I'm nervous about that, too. Right now, stepping out and doing something like this and not knowing what's to come, how it's going to work…. To me, there is no more frightening world to walk into than Broadway, because it's probably the industry I've always respected the most. – Read more at Broadway.com
Fifth Harmony Slams Donald Trump: "He's Catering to a Portion of Americans — The Racist Ones" – "As an immigrant myself, to have someone say such disgusting things about my people — my dad who came from Mexico, my mom who worked at Marshall's before she became an architect, and me pursuing my singing dreams — it's terrible," Cabello said. Nineteen-year-old Jauregui talked about how Trump inspires her to urge young people to vote. "We have the mass majority, and if young people don't get involved in the voting process, then Trump's going to win," Jauregui said. "He's catering to a portion of Americans — the racist ones. It's little things like that. If I can get 20 more girls to vote than that's 20 more votes against something that could be negative." – Read more at THR
Naya Rivera Gives Birth, Welcomes Baby Boy With Husband Ryan Dorsey – A Glee-ful arrival! Naya Rivera has given birth to a baby boy, her first child with husband Ryan Dorsey, multiple sources reveal exclusively in the new issue of Us Weekly. The couple welcomed their new arrival last month in L.A. "They are so excited to be first-time parents," one insider tells Us of the Glee alum, 28, and her actor hubby, 32. "It was a very easy pregnancy and birth." – Read more at US Magazine
Reality TV's Future Looks A Lot Like the Past – Asked to take a crack at predicting the next big trend, Grant allows, "I don't know the trend, but it's going to be a show that figures out how to bring people together, using the devices of the modern era. That's the icing that will be needed to make our cake. It's just a question of what type of show that's going to be." Like Telegdy, Gaha sees the future as a reflection of the past. "There's been a swing back to a more traditional sense with the live variety show and game shows," he says, bringing up "Celebrity Family Feud," another new summer success with an established concept and a known name in Steve Harvey. – Read more at Variety