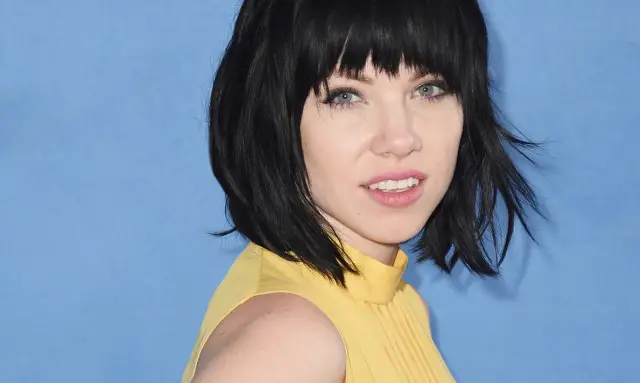 Congrats to Carly Rae Jepsen who has been cast as Frenchy in the FOX production of Grease: Live, airing live, Sunday January 31 at 7/6c PM.  Weirdly, Jessie J will drop by to sing an "updated" version of "Grease is the Word," mimicking the animated opening title sequence from the 1978 film. As if we needed that?  Glee choreographer, Zach Woodlee, has also joined the production.
Sidenote: Carlos PenaVega set to play Kenickie is currently competing on Dancing with the Stars, along with his wife, Alexa PenaVega.
From the FOX press release:
Fox Broadcasting Company (FOX) and Paramount Television announced today that multi-Platinum Grammy® Award-nominated singer and songwriter Carly Rae Jepsen will join the cast of GREASE: LIVE as iconic Pink Lady "Frenchy." Jepsen joins the multi-talented ensemble cast, including Julianne Hough ("Safe Haven," "Rock of Ages") as "Sandy," Aaron Tveit ("Graceland," "Les Miserables") as "Danny," Vanessa Hudgens (Broadway's "Gigi," "Spring Breakers") as "Rizzo," Carlos PenaVega ("Spare Parts," "Big Time Rush") as "Kenickie" and Keke Palmer (SCREAM QUEENS, "Masters of Sex") as "Marty."
Kether Donohue ("You're The Worst") rounds out the Pink Ladies as "Jan," while David Del Rio ("Spare Parts," "The Troop") will play T-Bird "Putzie."
Pop powerhouse and Grammy Award-nominated singer Jessie J will open the live event with a performance of a brand-new version of "Grease (Is the Word)," first heard in the animated opening title sequence of the 1978 film, and written by Barry Gibb.
Joining the creative team, led by executive producer Marc Platt, is "Glee" and "Annie" choreographer Zach Woodlee. His work has been seen on previous television specials, including the 100th episode of "How I Met Your Mother" and 2008's "MTV Movie Awards," as well as films "Hairspray," "27 Dresses," "17 Again," "Eat Pray Love" and more.
Multi-Platinum-selling Grammy Award-nominated singer and songwriter Carly Rae Jepsen most recently released her critically acclaimed new album, "E·MO·TION," and premiered the video for her brand-new single, "Run Away With Me." Jepsen spent much of 2014 starring in the Broadway production of Rodgers & Hammerstein's "Cinderella." She was also a finalist on the 2007 edition of Canadian Idol.