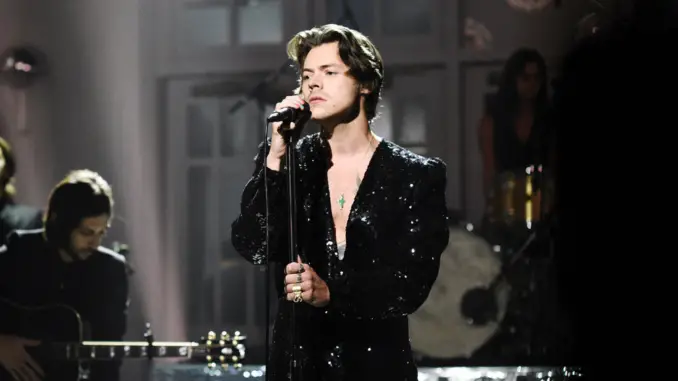 X Factor and One Direction alum Harry Styles had his Justin Timberlake moment on Saturday Night Live last night (Nov 17). Harry has performed on SNL before, but for the first time the singer did double duty, serving as both host and musical guest on the episode.
When Justin Timberlake first hosted the show back in 2003, the appearance changed the trajectory of his career. Who knew the ex-boybander was so funny? For awhile, Justin abandoned his singing career entirely for the silver screen.
Harry Styles "Lights Up" in His Sexy New Music Video
Who knows the effect last night's appearance will have on Harry's career, but the lad was actually, funny! Hysterical at times. He employed accents, from American southern to fake Icelandic. His timing was impressive! Harry might be offered comedies after last night's SNL.
Harry isn't ready to abandon his music career just yet, however. The singer also performed two new songs, "Lights Up" and "Watermelon Sugar" from his upcoming album, Fine Line. He'll also be embarking on a massive tour next year.
Check out clips from Saturday Night Live featuring Harry Styles below.
Harry Styles performs "Lights Up"
https://youtu.be/N0cH2XlQW3s
Harry Styles performs "Watermelon Sugar"
Harry had issues with his in-ears. I think they became unplugged? See his arm on the right? He's fiddling with the in-ears pack. He kept reaching around, attempting to fix something. Still, to his credit, he didn't miss a beat. 
https://youtu.be/w_bhvofXYf4
Harry Styles monologue
"Ringo" was trending last night on Twitter. I immediately thought the worst and then laughed out loud when I clicked on it. Let's just say, certain One Direction fans were not happy with that particular joke.  Host monologues on SNL often fall flat. Not this one. Harry displayed surprisingly great comic timing and charisma.
Best Skits
Joan Song – This bit was just…very weird. 
Lunch Run – Harry plays an over eager intern, willing to get Popeyes chicken sandwiches for the entire office. Not everybody was happy, however. Featuring Kenan Thompson and new cast member, Ego Nwodim.
Airline pilots – Two pilots (Harry Styles, Mikey Day) have a raunchy conversation that an entire plane cabin (Kenan Thompson, Kate McKinnon, Ego Nwodim, Bowen Yang) overhears. Harry nails pilot speak.
Childbirth class – An Icelandic couple (Harry Styles, Heidi Gardner) brags about how well they're handling having a baby, but in very bad English.
Sara Lee – Two Sara Lee employees (Cecily Strong, Bowen Yang) confront the company's Instagram manager (Harry Styles) about some, uhm, "off-brand" activity on the account. People love bread content!
Funeral DJs – Two DJs (Harry Styles, Chris Redd) try to hype up mourners at a funeral. Last skits of the night are often throw aways. This bit, with two DJ's hyping up a bewildered crowd at grandma's funeral, was hysterical.
https://youtu.be/rjf6CMqpgZU