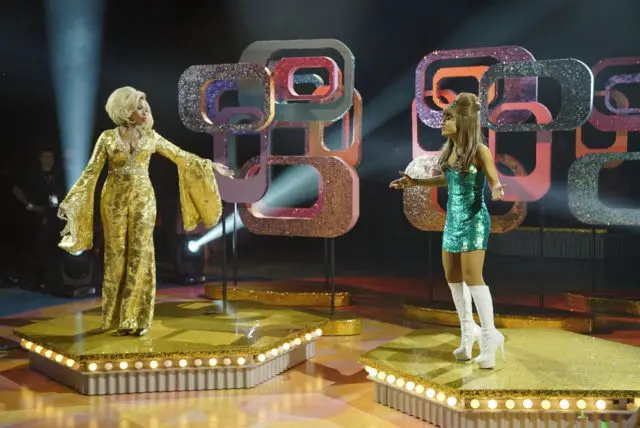 NBC's Dec. 6 television event, Hairspray Live! ended with two big numbers. First, after Tracy Turnblad and her friends successfully take over the Corny Collins Show, they sing and dance to the upbeat anthem, "You Can't Stop the Beat." Once again, Jennifer Hudson as Motormouth Maybelle totally steals the show.
American Idol's Jennifer Hudson Wows on Hairspray Live (VIDEO)
The Hairspray Live! curtain call is a duet between Jennifer Hudson and Ariana Grande singing a new song, "Come So Far (Got So Far to Go)." The entire cast takes a bow at this point, including Maddie Baillio (Tracy), Derek Hough (Corny Collins) and Kristin Chenoweth (Velma Von Tussle).
Hairspray Live! Recap Performance Videos Photos
Watch both performances here.
Full Cast – You Can't Stop the Beat – Hairspray Live
Jennifer Hudson & Ariana Grande (Full Cast)- Come So Far (Got So Far to Go)
Hairspray Live! stars Harvey Fierstein, Jennifer Hudson, Ariana Grande, Martin Short, Derek Hough, Dove Cameron, Garrett Clayton, Ephraim Sykes, Shahadi Wright Joseph, newcomer Maddie Baillio, Kristin Chenoweth, Sean Hayes, Andrea Martin, Billy Eichner and Rosie O'Donnell.