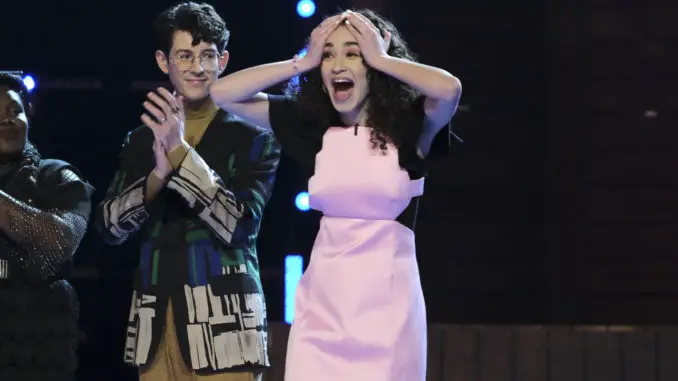 The Voice singer Hailey Mia finished season 21 in 4th place, and now the 14 year old singer is back home with her family. In an interview with New Jersey 101. 5, the singer shared what it was like to be a young teenager competing on huge televised singing competition.
"Even looking back on my blind audition now I can hear the nervousness in my own voice," Hailey said. "I don't know if anyone else can but I can because I'm me.
"I sing with my eyes closed because I'm a very emotional singer, I opened my eyes towards the end of the performance and I saw Ariana and Kelly had both turned around for me and I didn't even know what to think, my mind was blank, I didn't even know what was happening, it all happened so fast, the crowd was so loud, everything just happened so fast."
Ariana is more like your big sister and Kelly is more like your mom.
After she performed "You Broke Me" as her audition song, the Clifton, NJ native chose Ariana Grande over Kelly Clarkson. However, in the Battles, Ariana let Hailey go, giving Kelly the opportunity to steal her. As far as the difference in coaching styles between the two superstars, Hailey said, "It's such an honor to have gotten to work with either of them let alone both of them."
The Voice 21 Top 11: Hailey Mia Closes with Emotional "Elastic Heart"
Ariana Grande Sends Flowers to a The Voice Artist NOT on Her Team!
"The difference in my opinion between them two is that Ariana is very friend-like. She is the sweetest, most motivated person I know. She gave me confidence and motivation and taught me things like how to slip into my mask voice and how to be more powerful with my head voice and I'm so incredibly grateful for that."
However, said Haley, "With Kelly…since I'm 14, I adapt to more mother-like people and that's what Kelly is because she is a mom. I think the difference between them is just that. Ariana is more like your big sister and Kelly is more like your mom."
What's next for Hailey
"We go wherever the world takes me. I would say somewhere specific but I don't know. I'm so young, I want to spend the holidays with my family, spend more time with my family because I've been gone for 9 weeks, and after that I take every opportunity I'm given, I find anyway find any time any day to sing in front of people and inspire people, help people through music and hopefully put out my own music, get in the studio, what ever comes my way"
Listen to the interview below