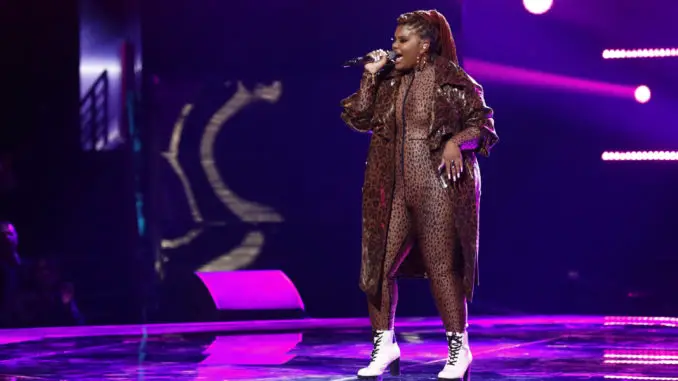 Gymani Bids Farewell to The Voice: Was she Robbed?
Gymani is a memorable contestant. But sadly, after needing to be saved several times, she bid farewell to The Voice stage Tuesday night after the show whittled 11 contestants down to 10 (Read our Recap).
However, the 23 year old mother of two from Atlanta, Georgia, promises this won't be the last we see of her. Gymani was Kelly Clarkson's coach's save in the playoffs and then won the instant save last week. She had a solid showing with her reworked version of Rihanna's "Diamonds" Monday night, a song her fans picked for the Top 11 performance show (Read our Top 11 Recap).
Tuesday night, she ended up in the Instant Save once again fighting for a spot, singing Rufus and Chaka Khan's "Tell Me Something Good." Her opponent was Jim & Sasha Allen from Team Ariana Grande. This week's song choice wasn't as good as last week's "Sweet Love." But nevertheless, Gymani came out with energy, and I still enjoyed her tone, and all of her adlibs. Jim & Sasha were off key and just aren't up to par vocally at this point in the competition. Gymani truly deserved to win this save, but it was Jim and Sasha who took the victory. Ariana's fan base (the Arianators) and the duo's song choices that aligned with the core audience, probably helped them out.
Gymani is "only going up from here"
Gymani always brought cool takes to both new and old songs and had one of the more memorable auditions of the season, singing Ariana's "POV." The singer's tone is one that is instantly identifiable and belongs on the radio. During her last time on the stage, she continued to display just how gorgeous her tone is and how talented she is with adlibs. Apparently, she made a mistake according to John Legend at the beginning, but still, it was a solid effort.
Gymani was upbeat and positive while battling tears prior to the results. She noted that she is only "going up from here." Kelly said that winning doesn't matter, but the "next step" is what matters. She invited her onto her afternoon talk show, so maybe we will see her on The Kelly Clarkson Show.
Gymani is truly one to remember and left the competition too soon. This show has a history of robbing singers similar to Gymani. Best of luck to her. Hopefully, Kelly helps her out, and we see her again in the near future.