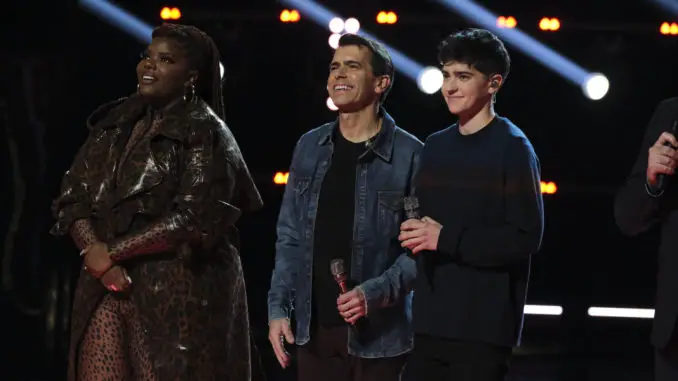 We're live blogging The Voice season 21 Live Top 13 results here. The Top 11 finalists will be revealed LIVE.
The Voice 21 Top 11 Predictions and Poll Results
The Voice 21 Recap: Top 11 Finalists Perform Fan Favs (Videos)
Who from Team Blake Shelton, Team Kelly Clarkson, Team John Legend and Team Ariana Grande will make the cut? After last night's viewer vote, the Top 9 vote getters will advance. Next, the bottom 2 vote getters will compete for the Instant Save. After the vote, the winner will join the Top 9, with 10 contestants moving on to next week's episode. 
Blake and Ariana will perform with their respective teams tonight.
Ariana holds up a sign "Team Ariana 4 life and whatever comes after!" Carson notes her commitment!
Results! The Top 10 enter the stage. Carson starts off with his typical Dumb Questions for the artists. Wendy hopes that her fans got to see another side of her personality. She can have fun! Dance! Have a good time! Hailey wants the fans to know how grateful she is to them. America Saved…from Team Legend…Joshua Vacanti! America also saved…from Team Kelly…Hailey Mia!
Team Ariana performs "FourFiveSeconds" by Rihanna, Kanye West, Paul McCartney
Now, Ariana Grande and her remaining Team Members, Holly Forbes and Jim and Sasha Allen sing "FourFiveSeconds" by Rihanna, Paul McCartney and Kanye West. Good song for this mix of singers. A little Beatles, a little Rihanna right? I'm not sure what the fake "campfire" is about. 
Time for a time-wasting clip! Blake Shelton and Ariana Grande "carpool" to "work." Ariana plays a very annoying backseat driver, athough she is riding shotgun. Eventually, they switch places, and Ariana drives SLOWLY. Or something.
The remaining 9 artists are back on stage. Caleb from Girl Named Tom talks a bit about his local community. "They've been behind us." The town only has one stoplight, but 300 showed up to the fan party last night! Jershika tells her fans to follow their dreams no matter how young or old. Be open to change, she says. Your passions? "Do it til you die," she plainly advises. America saved…from Team Blake…Paris Winningham. America also saved…from Team Ariana…Holly Forbes! 
After the break, the remaining 7 artists take the stage. Gymani thanks America for voting for her and saving her in the Instant Save. Lana thanks her "Lanterns" for believing in her. America saved…from Team Blake…Wendy Moten! America also saved…from Team Kelly…Girl Named Tom. America also saved…Lana Scott from Team Blake! All of Team Blake safe!
Team Blake performs The Four Tops "Sugar Pie Honey Bunch"
Next, Team Blake Shelton aka Wendy Moten, Lana Scott and Paris Winningham sing The Four Tops' "Sugar Pie Honey Bunch." An old Motown classic. Lana is a little out of her wheelhouse, while it's a wonderful showcase for Wendy and Paris. It's a crowd pleaser. 
OH NOES WENDY MOTEN SLIPPED ON HER WAY OFF THE STAGE! She had to be helped to her feet and led off the stage. Everything stopped for a moment. Is she OK?
The four remaining artists take the stage. America saved…Jeremy Rosado from Team Kelly. America also saved…Jershika Maple from Team Legend! 
Gymani and Jim and Sasha will perform for the Instant Save!
UPDATE: After the break, Wendy is standing next to Carson letting everyone now she's OK. She says she's bruised but fine and READY TO GO!
WENDY MOTEN FALLS ON STAGE BUT SHE'S OK!
Instant Save Performances
Gymani – Team Kelly – Tell Me Something Good by Rufus and Chaka Khan – Gymani growls and grinds her way through the performance. She's fierce as HECK and deserves to move on to the Top 10. John loves how "unstoppable" Gymani is. He mentions that she's been put in this position two times before. He calls her "crackling." John mentions a tiny mishap that I had to go back and rewatch to pick up on. 
Jim and Sasha Allen – Team Ariana – I Won't Give Up by Jason Mraz – These two should never sing harmonies. They are much better as solos, Sasha in particular. Will the Arianators save their girl's team members? This performance is SO OFF PITCH. Really awful. Gymani should easily win this. But we'll see. As Sasha finishes the performance, he shouts "Trans rights" I think it's the first time he's actually talked about being trans outside of the duo's video packages. Blake claims that he is surprised to see them up there. Really? "You guys are incredible." Ariana begs and cries. Please vote for them, she says.
Gymani thanks coach Kelly for believing in her, challenging her, and being a best friend. "Whatever happens tonight I promise I'm going up from here." Sasha and Ariana are both crying "I treasure these moments with you." He mentions support for trans kids. Ariana is so thankful to have crossed paths with them both. She calls knowing them a beautiful gift. "I'm not going anywhere. You can't get rid of me," she promises. Kelly insists that it doesn't matter winning the show. It's just the next step to what's coming. "I'm hopeful that America voted you through." Kelly invites Gymani to sing on her afternoon talk show. 
Results
And America INSTANTLY SAVED Jim and Sasha Allen. UGH. Arinators in overdrive. That's the only explanation.
Also, production leaned heavily into Ariana's team members. Gymani sang first. Afterward, John made a point of mentioning the tiny tiny stumble over words at the beginning of her performance. Meanwhile, Jim and Sasha were so HORRIBLY OFF KEY through much of the performance and? *CRICKETS*. Just Blake acting SHOCKED SHOCKED that they landed in the bottom two. And then Ariana brought on the so-called "tears" during the last moments of voting.
Ariana is their star coach this season, and The Voice would probably LOVE to have her back next year. So, they are going to make sure she doesn't end up with an empty team. They pulled the same stunt at the Knockouts when they made the "Comeback Stage" a world wide vote over Twitter, practically ensuring Ariana's pick would win. Again, Vaughn Mugol was the weakest singer of the bunch.
The Voice 21 Top 10
Joshua Vacanti – Team Legend
Hailey Mia – Team Kelly
Paris Winningham – Team Blake
Holly Forbes – Team Ariana
Wendy Moten – Team Blake
Girl Named Tom – Team Kelly
Lana Scott – Team Blake
Jeremy Rosado – Team Kelly
Jershika Maple – Team Legend
Jim and Sasha Allen – Team Ariana
Eliminated
Gymani – Team Kelly