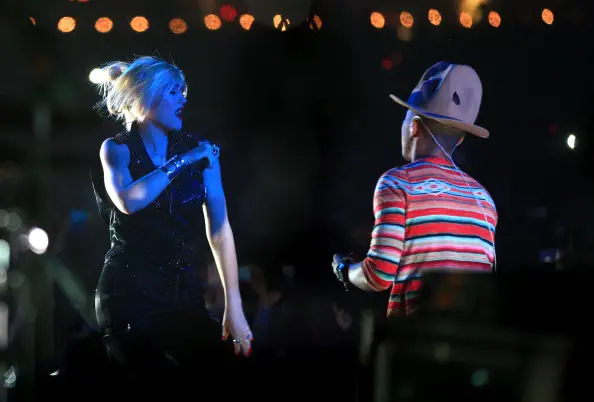 Gwen Stefani guest performs with Pharrell Williams at Coachella 2014
In this story from the Hollywood Reporter about pop star, Gwen Stefani, splitting from her longtime manager, it's revealed that she was close to signing on as a judge for ABC's singing competition Rising Star. That is, until The Voice came calling.
It was "mega-manager," Irving Azoff, who suggested Gwen replace  his client, Christina Aguilera, who is taking a pregnancy break.  The deal isn't done yet, but Gwen is expected to join Pharrell Williams on the season 7 panel. No word on whether Blake Shelton or Adam Levine (who is being very coy when asked about his status) will be returning as coaches.
Irving may or may not be Gwen's manager at this time. She and her band, No Doubt, recently parted ways with Jim Guerinot, their manager since 1998.
As far as Rising Star is concerned (It premiers on ABC June 22), Pitbull and Luke Bryan both turned down offers to judge, according to THR's sources. The show now has it's sights set on Kesha and will.i.am.  Manager, Scooter Braun (Justin Bieber) is being considered for a mentor role.  That's a pretty dreadful cast. I'm going to cover the premiere, but if the show is a dud, I will abandon it pretty quickly.
THR speculates that, for The Voice,  Gwen can command a Christina (12 mil) or Mariah (18 mil) range salary (Jennifer Lopez earns a similar fee for Idol).  A source reveals that NBC's main consideration for hiring a The Voice coach is "finding the pop artist that has the reach and social media following that can help draw in viewers."
Via THR