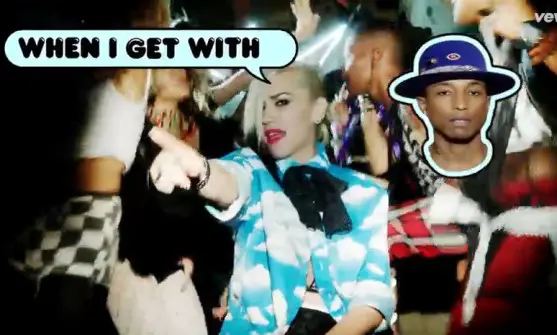 Gwen Stefani premiered her terrible new song, "Spark The Fire" on The Voice monday night. Promptly aftward, the official music video debuted.
The tune, which sounds like a dated Black Eyed Peas reject, is a collaboration with her fellow The Voice coach, Pharrell. That's why the video is extra scary–featuring shots of the producer's disembodied head and his annoying vocal bleating.
While it seems like we're still in the aughts (maybe because of?) the stupid lyrics are stuffed with as many random and nonsensical 2014 pop culture references as possible.
I wonder if the product placement included Pizza Hut? Or maybe Papa Johns.
Seriously. This song is just….SO ANNOYING.
Gwen and Pharrell performing "Spark the Fire on The Voice