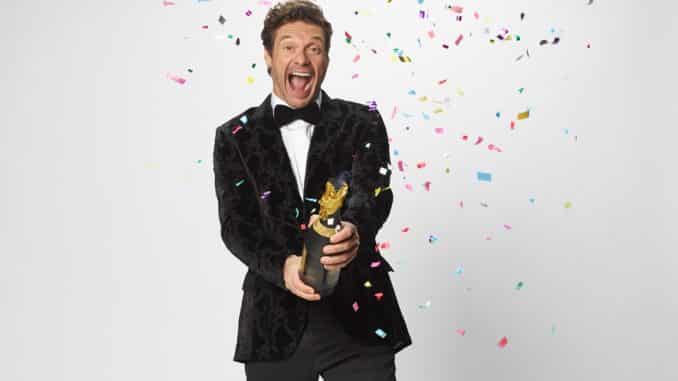 Will you be stuck inside tonight on New Year's Eve? Here's a list of New Years Eve specials on television. Because of the COVID-19 pandemic, all events will be held on closed sets. No Times Square crowds for 2020. Hopefully, next New Years Eve we'll all be vaccinated and back to normal. 
Dick Clark's New Year's Rockin Eve
The longest running New Year's Eve special is Dick Clark's New Year's Rockin' Eve, now in its 49th year. American Idol judge, Ryan Seacrest returns for his 16th year as host and will be joined by Lucy Hale and Billy Porter in Times Square. Ciara will once again oversee the Los Angeles festivities, returning to the show for her fourth year, and Big Freedia will host the 5th annual Central Time Zone Countdown from New Orleans.
List of performers and special guest stars
President-Elect Joe Biden and future First Lady Dr. Jill Biden will speak exclusively with host Ryan Seacrest for their last interview of the year.
Jennifer Lopez will headline the event from Times Square, performing minutes before the iconic ball drop, with additional performances by Billy Porter, Cyndi Lauper, Jimmie Allen and Machine Gun Kelly. Los Angeles performers include 24KGoldn feat. Iann Dior, Brandy, Doja Cat, Ella Mai, En Vogue, Julia Michaels & JP Saxe, Lewis Capaldi, Maluma, Megan Thee Stallion, Miley Cyrus, Nelly, Noah Cyrus and Saweetie.
Country artist Jessie James Decker will return as Powerball correspondent for the second year. Decker will provide live updates throughout the evening, checking in with five randomly selected finalists across the country, before revealing the POWERBALL First Millionaire of the YearSM just after midnight on Jan. 1, 2021.
Special messages for the new year from Taylor Swift, BTS, Sean Penn, David Dobrik, Jimmy Kimmel, Matt James (The Bachelor), and more.
Dick Clark's New Year's Rockin'?Eve with Ryan Seacrest 2021 airs Thursday, Dec. 31 at 8 p.m. ET/PT on ABC.
NBC's New Year's Eve 2021
NBC's New Year's special features a bunch of your favorites from The Voice. 
The broadcast will feature performances from across the country by AJR, Busta Rhymes featuring Anderson .Paak, Chloe x Halle, CNCO, Jason Derulo, Goo Goo Dolls, Kylie Minogue, Pentatonix, Bebe Rexha featuring Doja Cat, Blake Shelton, Gwen Stefani and Sting featuring Shirazee.
Carson Daly will return to host NBC's New Year's Eve special live from Times Square. Amber Ruffin, star of Peacock's The Amber Ruffin Show and writer for Late Night with Seth Meyers," and SYTYCD alum Stephen "tWitch" Boss, DJ and co-executive producer for the Ellen DeGeneres Show, will join Carson as co-hosts.
NBC's New Year's Eve 2021 will air Thursday, Dec. 31 from 10-11 p.m., will break for local news and return for the final countdown to the iconic ball drop from 11:30 p.m.-12:30 a.m. ET/PT.
FOX's New Year's Eve Toast & Roast 2021
And on FOX, The Masked Singer franchise will take over New Year's Eve. Plus, a clip of American Idol 2018 alum Gabby Barrett's iHeartRadio performance will air. 
Ken Jeong who hosts The Masked Singer, Dancer and more hosts with his Community buddy and frequent Singer guest judge, Joel McHale.  The two will kiss 2020 goodbye as they commemorate the past year, live from Los Angeles. 
Ken and Joel will note the highs and lows of 2020, paying special attention to those that helped to make the world a better place this past year. To help the two wrap up 2020 and kick off the New Year, the newly crowned winner of The Masked Singer, LeAnn Rimes, will perform for the first time since winning, as will seven-time Grammy Award winner Gloria Estefan and Instagram favorite Doctor Elvis.
The special also will feature iHeartRadio performances from some of the year's top music artists, such as John Legend, Ava Max, Green Day and American Idol alum, Gabby Barrett, with celebrity guest appearances by Leslie Jordan, Morris Chestnut and Tom Payne, among others.
Additionally Mayim Bialik and Cheyenne Jackson from From FOX's new comedy, Call Me Cat will  perform a musical number.  Jane Krakowski and former American Idol judge Randy Jackson from the all-new version of the classic music game show Name That Tune will also perform. And also, Tim Allen from Last Man Standing will offer viewers a special New Year's vlog.
FOX'S New Year's Eve Toast & Roast 2021 Part One airs Thursday, Dec. 31 (8:00-10:00 PM ET/CT live MT/PT tape-delayed), and Part Two airs Thursday, Dec. 31 (11:00 PM-12:30 AM ET live, CT/MT/PT tape-delayed).
CNN's New Year's Eve
Anderson Cooper and Andy Cohen will co-host CNN's New Year's Eve Live from New York City's Times Square for the fourth time. (Bravo's Andy Cohen took over after CNN dumped Kathy Griffin.) Anderson and Andy will help us say goodbye to 2020 and usher in 2021 on Thursday, December 31st starting at 8pm ET. At 12:30am ET, they will hand over to CNN's Brooke Baldwin and Don Lemon, who will continue the celebration as the Central Time Zone rings in the New Year.
CNN performances and appearances will include John Mayer, Snoop Dogg, Patti Labelle, Jimmy Buffett, Carole Baskin, Josh Groban, Leslie Jordan, Dulce Sloan, Desus & Mero, Kylie Minogue, Aloe Blacc, Goo Goo Dolls and Jon Bon Jovi.
The program will also feature CNN's Ana Cabrera, Stephanie Elam, Randi Kaye, Richard Quest, Gary Tuchman, and Bill Weir from locations around the world.