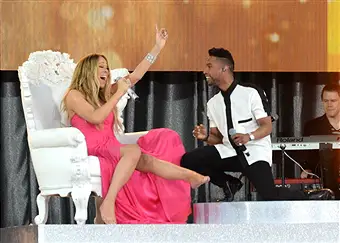 Mariah Carey's appearance on Good Morning America this past Friday turned out to be a comedy of errors. At one point, she accidently swore (exclaiming "oh sh*t) and then popped her dress, nearly having a wardrobe malfunction.
But when sexy R&B singer, Miguel, joined her onstage to perform their new single "#Beautiful", Mariah had issues hitting the notes in her celebrated whistle register. To put it bluntly, THE PERFORMANCE WAS PITCHY, DAWG. At least that's how East coast viewers of GMA heard it. The West coast was a completely different story.
Here's the East coast feed. YIKES right?
Now listen to the West coast feed. And through the magic of sound editing, Mariah sounds awesome! Likely, Mariah was singing to a backing track. It would be easy to cut out the sound from her mic and bring up the vocal on the track. VOILA.
It's no wonder that she decided to tape her performance for the  American Idol finale, even if it was badly lip synced.