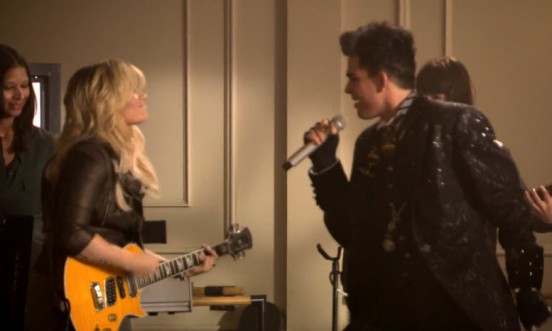 Glee welcomes Demi Lovato! In this new behind-the-scenes video, the singer and X Factor judge discusses her guest starring role on the musical comedy. She plays Dani, a musician and new love interest for Santana (Naya Rivera).
Adam Lambert, Chris Colfer, Kevin McHale (he's known Demi since they were kids!), and Chord Overstreet weigh in on working with the singer.
Also, look out for BRAND NEW scenes from the upcoming episode, "A Katy Or a Gaga" airing on November 7.
"That girl's voice is unbelievable," says Adam, who will debut on Thursday as the out-there performer, Starchild, "She can wail! So when I heard she was going to be a part of our storyline, I was thrilled."  He's looking forward to singing with Demi.
Chris Colfer is glad that he forgets Demi, the girl he's working with, is Demi, the girl who performs songs that he knows by heart, like "Skyscraper" and "Give Your Heart a Break."
"I'm glad I keep forgetting that," jokes Chris, "Or I'd probably just embarass myself to no end."
Demi also shares her musical influences (She LOVES Kelly Clarkson) and the challenge of juggling Glee and X Factor at the same time.
Watch the video below.