When Glee fans heard that Episode 15, set to air on April 8, was titled "Bash" it set fear in the hearts of fandom. Bash? As in gay bashing? Understanding that co-creator, Ryan Murphy LOVES to tackle hot button issues like bullying, school shootings, domestic abuse, texting and driving and more, it seemed like a pretty safe bet that the title wasn't referring to a party (Maybe it was, but certainly not only.)
And as new stills from yesterday's Glee set reveals, people are hurt, including Kurt (Chris Colfer). One may even be dead–or at least his life will hang in the balance.  New photos from a shoot for Episode 15 have the New York Glee gang, including Kurt, Rachel (Lea Michele), Sam (Chord Overstreet) and Blaine (Darren Criss), standing around a makeshift memorial for a man named Russ.
You'll notice, in the candlelight vigil photos, Kurt isn't bruised. He is hurt, later, when he intervenes on a man being attacked (GleekTo).  Kurt is beat up and left laying on the ground, while the man he was helping gets away.  Later, as you can see from the photos, an obviously injured Kurt and Blaine visit the makeshift memorial where the vigil had taken place.  Kurt's dad (Mike O'Malley) will also be part of the storyline.
We'll find out in April the exact nature of the violence that goes down in "Bash." I'm already anxious, just looking at the photos….
Check out more photos at FYeahgleeclub
Kurt, Rachel and Sam gather around the memorial at the Candlelight Vigil
Check out this video. Rachel, Sam and Kurt sing at a candlelight vigil for. Reportedly the song is "No One is Alone" from the Broadway musical Into the Woods.
The memorial is for this man, reportedly named Russ:
Also, reportedly, the same actor appeared in a scene with Kurt in a NYADA acting class, so he could be Rachel and Kurt's classmate, hence how they know him.
According to fans who were at the shoot, Kurt tries to help as he witnesses a mugging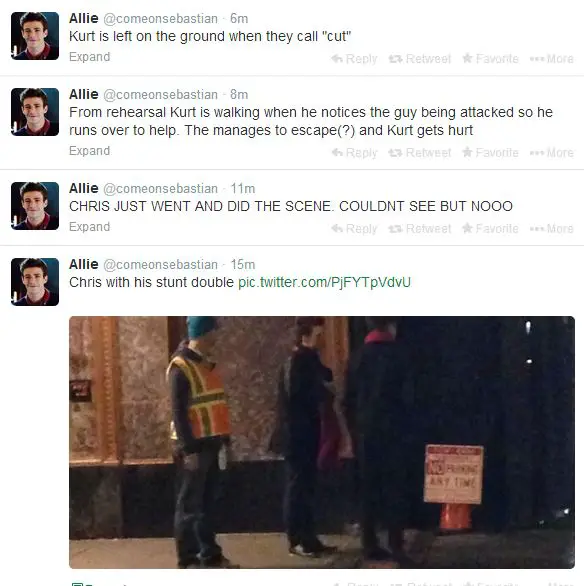 via Klaine News, StaceyThings
According to fan reports, Chris was hurt filming the scene. He wizzed by them with an ice pack to his face.
Kurt clearly has a split lip and a swollen swollen cut under his eye.
After Kurt is hurt, he and Blaine Mourn Together at the Memorial