Here's another Glee Season 5 update. Today, it's mostly hiatus stuff, although we also have a few spoilerish bits from Matthew Morrison and Jane Lynch.
Matthew Morrison, out promoting his new album, Where It All Began in the UK told Digital Spy:
Just like Darren Criss and Chris Colfer, he's totally not down with Klaine tying the knot:
"I don't think anybody should get married that young," he said. "It's not a gay or a straight thing, it's just being young, too young. I don't think anyone should get married until they're in their 30s.

"Probably the most growth you'll ever have in your life [is in] high school and your 20s, because you're kind of living on your own for the first time. There is so much exploration to do and self-exploration and I don't think anyone should be getting married that young."
Also, Matt's thoughts on whether Rachel (Lea Michele) and Finn (Cory Monteith) should get back together:
"I do think they were trying to get them together. He was really standing up for her and I think, yeah [that was the plan].

"But that's part of television. It was really interesting when [Cory went to rehab] to see the writers go, 'OK, we need to go this way'.
It sounds like the original plan was to have Finchel reunite before the end of the season. Hm.
Jane Lynch shared her thoughts on the news that 4 members of the original cast would be leaving the show:
"That's the nature of portraying a realistic view of high school: Kids graduate. They move on," explains the multiple Emmy nominee, who's busy promoting her new series Hollywood Game Night (premiering July 11 at 10/9c on NBC). "I like that we're following some of the kids to New York where they're trying to make it as actors and actresses. But the show will evolve, and when a show evolves that means you have to let some people go, and let some storylines go, so that you can pursue new ones."
Jane also tells the Hollywood Reporter that she has no idea how big her part will be in Season 5 of Glee. "We never know anything. We all just either got our contracts modified or picked up. I'm still a regular, yes."
Kevin McHale, who plays the New York City bound, Artie Abrams, will guest star on the game show Whose Line Is It Anyway. Here he is singing a comic riff with Wayne Brady. The show premieres July 15 on the CW Network.
http://youtu.be/0U4qmyQLHh0
And, I'm sorry, but kinda not sorry about this last item. Chris Colfer and his boyfriend, Will Sherrod were snapped by paps as they embarked on a "a romantic Fourth of July lunch together at Mendocino Farms in West Hollywood" yesterday.  The photo agency's words, not mine, OK.
Neither look pleased to be spotted by photographers. Boyfriend is a hottie, though, am I right? More HERE and HERE.  Chris was first spotted with Will back in October at Matt Morrison's annual Halloween party. The two went on vacation in France and England with Glee's Ashley Fink and a few other friends. But it wasn't until Chris brought his new beau to the SAG and Golden Globe awards in January that the mainstream press took notice.  The duo have been pretty much inseparable. Cuties!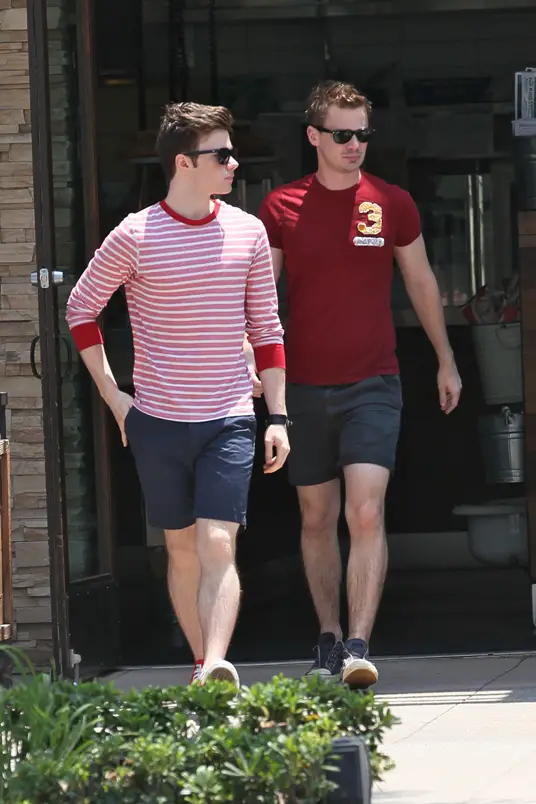 TOTES EYE DAGGERS I'M SKEERED. Definitely not happy to have their photos taken while trying to eat. If I were a celebrity, I'd be like, Alec Baldwin, smashing cameras and chewing people out on twitter. Well, minus the homophobia, of course.