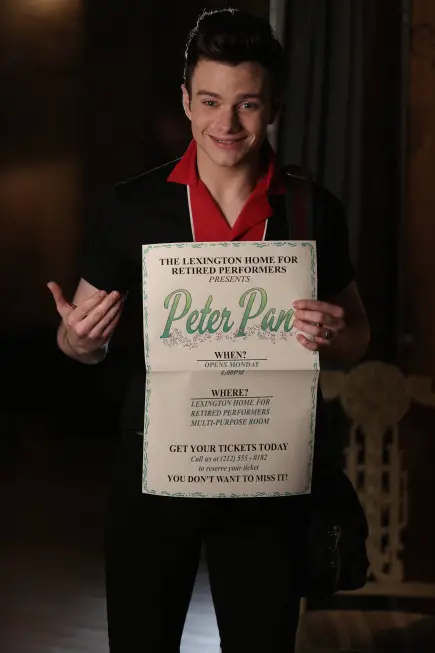 Glee Season 5 Spoilers 5×19 – Chris Colfer penned episode!
Glee star, Chris Colfer, who already has a screenplay and 3 books (another on the way!) under his belt, penned this episode of Glee! Directed by Bradley Buecker.
In "Old Dog, New Tricks," Santana helps Rachel do damage after her reputation takes a hit. Kurt volunteers to star in a production of "Peter Pan" put on by some elderly Broadway vets living in a retirement home. And, in order to appear more responsible to Mercedes, Sam adopts a dog, but things don't go so well.
WATCH THIS SPACE! I'll be updating with MORE SPOILERS as they become available!
UPDATE: From Billboard HERE and HERE.
You picked "Take Me Home Tonight" which samples the Ronettes' "Be My Baby," a melding of eras, much like the episode. We needed a big, splashy known song for the ending. The story for Rachel is that she starts an animal charity called Broadway Bitches, about dog adoption. All the characters come together in the end to get as many dogs adopted as possible, so the lyrics fit that perfectly. It's the two different stories of the show coming together — Kurt's at the retirement home and Rachel is planning this charity. They kind of have a falling out, then she makes it up to him at the end by inviting Kurt and his new friends to perform at his benefit. It's the big bow for the story.
UPDATE: Chris announces his guest stars! He had a hand in the casting.  June Squibb was nominated for an Oscar for her work in the film Nebraska. Tim Conway is a veteran comedian you may remember from the Carol Burnett show and Billy Dee Williams appeared in Star Wars, along with many other great movies.
It's a production of "Peter Pan" you'll never forget! #OldDogsNewTricks

— Chris Colfer (@chriscolfer) April 24, 2014
June Squibb, Tim Conway, and Billy Dee Williams are in the episode of Glee I wrote!!! #OldDogsNewTricks pic.twitter.com/mAuUcJlT8v

— Chris Colfer (@chriscolfer) April 24, 2014
Check out the official summary from FOX studios:
In an episode written by series star Chris Colfer, Rachel attempts to salvage her reputation among Broadway gossipers, by hiring Santana as her publicist and creating a charity for rescue animals. Meanwhile, Kurt (Colfer) nabs the lead role in a retirement home production of "Peter Pan."

Rachel's duplicitous actions come back to haunt her as news that she missed a performance of Funny Girl in order to audition for a TV pilot – and lied to producers about it – begins to hit the press. In order to prevent a wave of bad publicity that could sully her fresh image, Rachel enlists Santana's help in rebranding herself. Deciding she needs to champion a worthwhile cause, she and the girls organize an all-female musical gala to benefit a local dog shelter (aptly titled "Broadway Bitches"), but Rachel soon realizes there is a marked difference between simply looking like a good person, and actually being one.

Kurt – who has been starting to feel inadequate in the wake of everyone else's recent successes and finding himself excluded from the all-girl performance – befriends former Broadway star Maggie Banks, who is currently living in a senior-citizens home for retired performers. When he is given the chance to join the elderly cast in their production of Peter Pan, he seizes the opportunity, and tries to make a positive difference in the lives of Maggie, her friends, and her family. Meanwhile, the smitten Sam is eager to prove to Mercedes that he's a responsible and dependable adult worthy of being considered husband (and father) material. To prove his point, he adopts a dog, but when "McConaughey" proceeds to destroy the apartment (and Mercedes' expensive hair extensions), Sam must teach the dog some obedience or admit failure.
Is Chris Colfer doing a sneaky "Peter Pan"  audition for NBC's upcoming live production?  Somebody on set tweeted, "…We're doing a musical number with Chris in a flying harness and old people…"  That's the real reason.  An excuse to fly in a harness! This should be good.
I have NO idea what this photo is about, but the caption is pretty interesting, "Today's job: drag a high maintenance, over paid actress around in a $700 dress…"  When the photo hit the internets, it was deleted IMMEDIATELY. Hm.
There WILL be special guest stars in this episode, including Star Wars' icon, Billy Dee Williams, legendary comic, Tim Conway, and Academy Award nominated actress, June Squibb (Maggie).
Song Spoilers
Werewolves Of London by Warren Zevon – Artie and Sam
I Melt with You (Glee Cast Version)
Memory (Glee Cast Version feat. June Squibb)
Lucky Star (Glee Cast Version feat. June Squibb)
Take Me Home Tonight (Glee Cast Version feat. June Squibb)
Photo Gallery