Next week, on October 10,  Glee's 3rd episode "The Quarterback" will say goodbye to Finn Hudson, the character played by the late Cory Monteith.  Next, the musical drama goes on a short hiatus to make way for FOX postseason baseball.
So what's coming up when Glee returns on November 7 with an episode titled "A Katy or a Gaga?" There's episode 5, airing the following week, with the groan-inducing title, "The End of Twerk" as Glee co-creator, Ryan Murphy, spoiled today via twitter.
Epi. 5 is called The End of Twerk. Apologies accepted.

— Ryan Murphy (@MrRPMurphy) October 2, 2013
And there are a couple of guest stars being cast for  episode 5, according to E News.
One is a tattoo artist named Louis. If you want more insight into the role, check out this audition posted online. SOMEBODY gets a tattoo to pull themselves out of the doldrums. They "message of hope" they wanted memorialized on their skin goes awry, but the philosophical tattooist is sympathetic, offering to fix the ink. It's all about not being afraid to take a risk, he says. The cast member receiving the body art isn't the type to get a tattoo, the artist notes. So you can all just speculate away from there.
Another, is a new jock/bully named Robbie who will be making life very difficult for one of the McKinley kids.
Yesterday, Lea Michele tweeted photos from the New York set, with the caption, "Another great day at work today w/ the NYC crew:) #GleeSeason5 #RachelBerry." It's obvious she and Chris Colfer were filming for episode 4, because they are wearing the outfits they're sporting in this photo with Demi Lovato and Adam Lambert.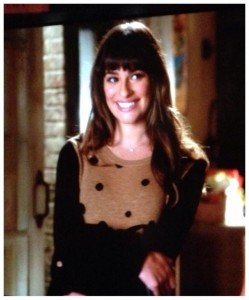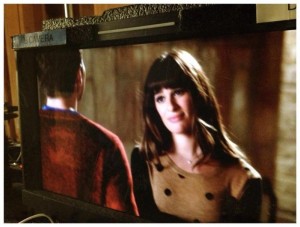 Speaking of Adam Lambert. He's impressing the crew! Yesterday, the Glee Director of Photography, Joaquin Sedillo, tweeted:
@JOAQUINSEDILLO ;) thanks man!

— Adam Lambert (@adamlambert) October 1, 2013
Oh, and that band the gang appear to be in:
Is a Madonna cover band! Or at least that was the original idea when Kurt (Chris Colfer) conceived it, according to new spoilers. In tomorrow night's episode, Kurt gets a job at the singing diner with Rachel (Lea Michele) and Santana (Naya Rivera) to earn money to start the band.
Check out song spoilers, more on the band and Adam Lambert's role as Starchild HERE.