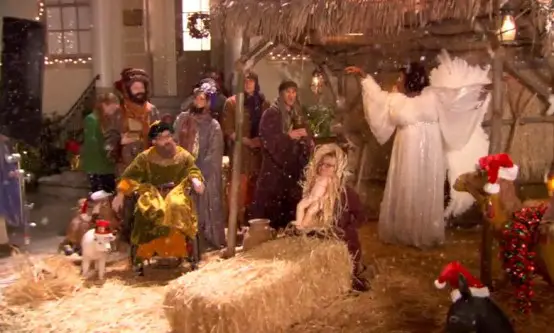 Imagine a Glee Christmas episode so "hot" that FOX didn't want to air it! This is the conceit Glee writers are using to pluck the show out of it's current spring 2013 timeline to allow for a holiday episode.
"Previously Unaired Christmas," which serves as the musical comedy's fall finale, takes place last Christmas, and completely re-imagines it.  Unlike like last years holiday themed show, "Glee Actually,"  which found the Glee kids a part of heartwarming holiday vignettes, this season features bad santas, slutty elves and the virgin birth described as a love child. Just who is the baby daddy?
The episode airs Thursday, December 5.
Read More:
Glee Season 5: Previously Unaired Christmas – Listen to Full Songs (AUDIO)
Glee Season 5 Spoilers – Previously Unaired Christmas – Details and Photos! (ELVES!)
In this new sneak peek, the Lima kids are part of a living nativity scene, with Kitty as the Virgin Mary (snerk), Becky as the Baby Jesus, and Artie as Joseph. Unique is a fabulous Angel Gabriele
And in the promo for next week's episode, things are clearly going wrong for Kurt, Santana and Rachel as they work as elves for a Bad Santa. Bubble baths are definitely in order for those who work hard as slutty elves.