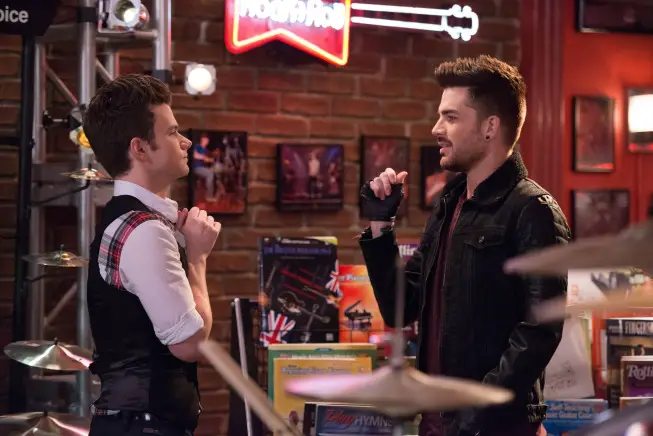 The songs from "New New York," the next episode of "Glee" are here! Adam Lambert returns as Elliott "Starchild" Gilbert and duets with Kurt (Chris Colfer).
Glee Season 5 "New New York" – Klaine Spoiler Photos, Adam Lambert Promo Video
Glee Spoilers: "New New York" Photos Feat Adam Lambert! Plus What Lies Ahead
Glee Goes Downtown – New York City Location Shoot (PHOTOS VIDEOS)
Glee Season 5 Spoilers: Adam Lambert & Chris Colfer Glammed Rockstars!
Many of these performances were shot on location in New York. For instance, "Downtown" was filmed in Washington Square Park, "Don't Sleep on the Subway" at Grand Central Station and "Best Day of My Life" in Times Square. Check out a BTS video of the New York City shoot.
Check out the music below!
Rockstar by A Great Big World – Elliott (Adam Lambert) and Kurt

***
You Make Me Feel So Young – Blaine and Kurt

***
Downtown by Petula Clark- Rachel, Kurt, Blaine, Sam and Artie

***
Best Day of my Life by American Authors – Sam and Blaine

***
Don't Sleep in the Subway by Petula Clark – Rachel and Artie

***
People from Funny Girl – Rachel