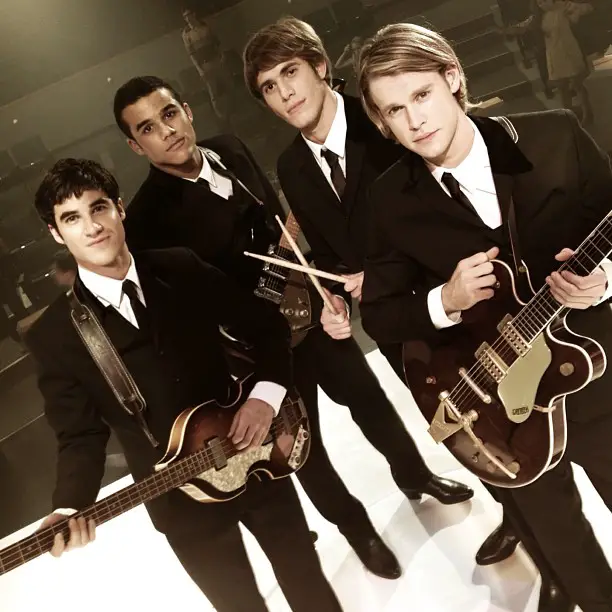 Glee Season 5 kicks off with a two part Beatles tribute on September 26. The songs will be available on an album available on iTunes September 24.
But before the release YOU can listen to every cut right here!  The two episode special splits up the Beatles tunes by era.  The premiere, titled "Love Love Love," explores the band's early work, while Episode 2, "Tina in the Sky with Diamonds," covers the later years.
I have loved the Beatles my entire life. My pop music world view springs directly from the fab 4. So, to say I'm a little protective of these tunes would be an understatement. Please keep that in mind as you read my mini-reviews below.
The Paul McCartney-penned songs fair better, because he's kind of a cornball to begin with (Paul crosses the line sometimes, but for the most part, he makes it work!)  The John Lennon songs are problematic. Only Kevin McHale rises above the over-production, bringing an edge the darker lyrics require.
Songs from 5×01 "Love Love Love" airs September 26
"I Saw Her Standing There" – 1964 – Blaine (Darren Criss) Sam (Chord Overstreet) Ryder (Blake Jenner) Jake (Jacob Artist) – This has GOT to be where the boys recreate the Ed Sullivan show performance (photo above). That's Blaine as Paul, Sam as George, Ryder as Ringo and Jake as John.  Hating on the flat vocal production, but it's a fun and faithful rendition.
***
"Hard Days Night" – 1964 – Rachel (Lea Michele) Santana (Naya Rivera)  Hm. Not feeling this really.  If it had been rearranged, it could have worked, because the vocals are good. But that tinny arrangement? Ugh.
***
"You've Got to Hide Your Love Away" – 1965 – Sung by:  Kitty (Becca Tobin) and Artie (Kevin McHale) – I wish Kevin had sung this with a stripped down accompaniment.  As soon as Becca's candy coated vocals join in, the song loses its edge. Kevin is woefully underused on Glee. His is one of the better voices.
***
"Drive My Car" – 1965 – Artie and Kitty with Blaine, Ryder, Sam and Jake – Kevin McHale (Artie) kills it once again. He's got the Beatles thing down.
***
"Help" – 1965 –  Sam and Blaine – This pop song is deceptive. Underneath the bright riffs is a song about desperation, which John Lennon's vocals fully convey.  The processed vocals lack urgency. Not feeling it.
***
"Got to Get You Into My Life" – 1966 – Blaine and Kurt (Chris Colfer) – This is the Klaine get-back-together song. I really like the marching band arrangement. Fluffy and fun. And it ends with a kiss!
***
"Yesterday" – 1965 – Rachel – Lea Michele delivers a lovely, poignant version of this McCartney classic.
***
"All You Need is Love" – 1967 – Blaine, The Warblers, New Directions, The Deaf Choir, Vocal Adrenaline – The arrangement and vocal lacks the majesty of the original. But I don't envy anyone who covers this song. It's a tall order. In context all will be forgiven, as the performance is one massive marriage proposal as Blaine asks Kurt to marry him.
***
5×02 "Tina in the Sky with Diamonds" airs October 3
"Sgt Peppers Lonely Hearts Club Band" –  1967 – Ryder, Marley (Melissa Benoist), Jake and Unique (Alex Newell) – I'm pretty unmoved by this performance, but this is one of the biggest cheeseball songs ever, and not a favorite.  I know. Blasphemy. And anyway. Newbies.
***
"Here Comes the Sun" – 1969 – Santana and Dani (Demi Lovato) – I like this a lot. A very sweet duo from the soon to become couple. Demi is set to play Santana's love interest in a 6 episode arc.
***
"Get Back" – 1969 – Kurt and Rachel –  I like the blend of Chris Colfer and Lea Michele's vocals set against an acoustic piano. A really cool arrangement, the duo bring surprising edge to the song.
***
"Something" – 1969 – Sam –  Several of these songs have the life produced out of them. This is definitely one of those. I miss the delicate vulnerability of the original George Harrison vocal.  Chord Overstreet sounds bland, but it may not be his fault.
***
"Let it Be" – 1969 – Rachel, Santana, Kurt, Tina and Artie – Everybody gets a solo!  And they're all really good. It would have been better if the quartet could have been their own backing choir.
***
"Hey Jude" – 1967 – Blaine, Sam, Tina & Kitty – It's impossible to recreate such an iconic song credibly, right down to the ad libs and vocal inflections. It probably shouldn't be attempted at all, but I guess Ryan Murphy couldn't resist.
***
Photo Gallery:
Premiere "Love Love Love"
Episode 2 – "Tina in the Sky with Diamonds" (These photos are BRAND NEW)
Santana books a commercial, Rachel and Santana make ends meet working at a diner, New Directions performs at the prom, Kitty runs for Prom Queen, Plus, Sam ends up in a compromising position with the new McKinley high nurse.