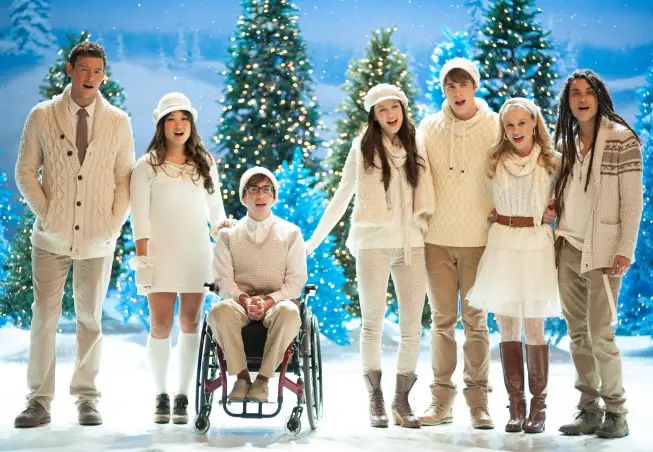 Glee co-creator, Ryan Murphy, held a twitter party for fans last night, and he spilled a couple spoilers! Here's a summary:
We will find out in next week's Christmas special "Glee Actually" whether Blaine is auditioning for NYADA or not. Chris Colfer told a reporter that the reason Blaine is in NYC is "a secret". So, I'm guessing that yes, Blaine is planning to audition for a spot next to Kurt and Rachel!
There will be a "Diva Special" in the new year. There will probably be another Katy Perry song.
Brittany and Santana will duet again and have lots of scenes together, coming up in the next episodes.
Quinn and Santana visit Rachel in NYC in episode 12. They all sing together. And there will be big news coming up for Santana in episode 13. I suspect she finally decides to move to New York City like she had planned.
Fondue for Two, starring Brittany and Lord Tubbington will make a return! Special guest star? Marley.
Ryan promises that all the characters will find their dreams. "Glee is about optimism," he says.
Jake and Marley will kiss in episode 11.
We will see Santana's reaction to Brittany dating Sam.
Blaine will stay a Cheerio throughout the season.
Not a Ryan spoiler, but other spoilers reveal that Ashley Fink will return to Glee as Laurn Zizes in Episode 11 titled, "Sadie Hawkins"   It will be the first show back after the holiday hiatus in January. The kids develop all sorts of new crushes and as you can imagine, the internet is exploding with dread and anticipation! Ha.
In the meantime, enjoy this awesome sneak peak of next week's "Glee Actually" which, taking the idea from the holiday film, Love Actually, features 4 interconnected but separate stories.  Chris Colfer and Darren Criss are interviewed about Klaine's annual Christmas duet. This year they sing "White Christmas" during a romantic New York City ice skate. The exes will come to an understanding by the end of the episode.
http://youtu.be/0NUM-JzFywo