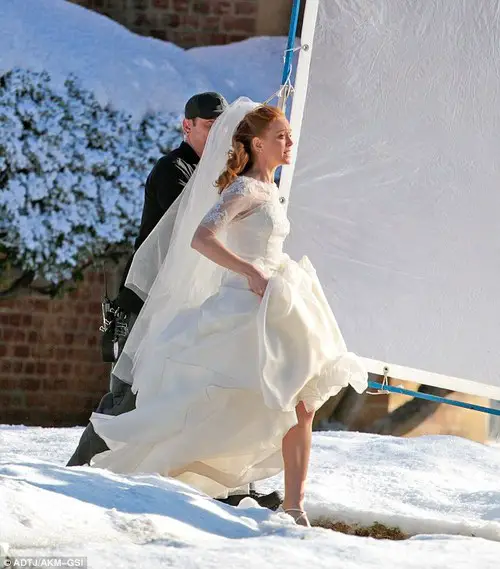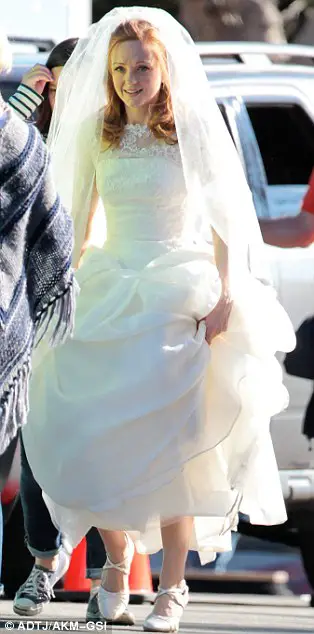 This is a mega Glee Season 4 spoiler post for "I Do," set to air February 14!
The big Valentines day episode will find Will and Emma finally headed down the aisle, and ALL of the new directions graduates will be back in Lima for the big party!
With the grads checking into hotel rooms during their stay, anticipate some interesting pillow talk and more. Co-creator, Ryan Murphy teased that Kurt (Chris Colfer) and Blaine (Darren Criss) will rekindle their romance with a steamy makeout scene in a car! Kurt, conveniently, will leave new love interest, Adam, at home.  Also, Rachel (Lea Michele) and Finn (Cory Monteith)  will have a heart to heart (and maybe more?) in her hotel room.  
Also, via the candid photos posted below, Jake (Jacob Artist)  and Marley (Melissa Benoist)  are spotted in a hotel room too. Also…is that Sue Sylvester (Jane Lynch) in a wedding gown? WHAT?
Glee Project 2 contender, Ali Stroker, will play Emma's niece, Betty. Those of you who watch TGP, might remember that Ali, who came in 3rd, is in a wheelchair. She's also got a great big Broadway voice. It will be an interesting development for Artie (Kevin McHale)
NEW: Sound bites from the episode! via fyeahgleeclub WHOA. Emma may be a runaway bride!
Sue walks in on Emma right before the wedding in an exact replica of her wedding dress. Sue walks down the aisle and approaches Will at the alter. He asks what she is doing & Sue informs him that "Emma has left the building". Sue takes the stage to throw Emma's bouquet out into the crowd.
Finn confides to Rachel that he kissed Emma.
Kurt and Blaine Hook up in a car before the wedding. Mercedes interrupts to get them inside.
Santana and Quinn complain about men and Valentine's Day at the church. (And according to spoilers, the two kiss and slow dance)
Rachel caught the bouquet & Finn proceeds to tell her how relationships are a lot like flowers.
Kurt attempts to minimize what happened in the car. Blaine is having none of it.  There's some rustling, and what sounds like a kiss. But maybe not.
Finn confronts Will in the teacher's lounge about moping around after Emma left him at the alter.
Back in New York, Brody asks Rachel if she had kissed somebody else while she was away
Read More
Klaine and Finchel Reunite?
Glee Season 4 "I Do" Videos Previews: Marly & Jake Duet, Rachel and Finn Bond
Glee Season 4 – I Do – Listen to Full Songs! (AUDIO)
Glee Season 4 – "I Do" Video Sneak Peek
More tidbits
Ryan hinted

in a twitter party

that a couple may be pregnant.

Rachel

catches the bouquet

.

The kids all have fake IDs. Fun ensues.

Santana and Quinn will kiss and slow dance. They are the couple in the "We've Got Tonight" montage.

Kurt and Tina chat about Blaine (She still has a crush) See photo below!

Finn confesses to Rachel that he kissed Emma. Will Finn's transgression create issues for the wedding?

ETA: Kurt and Blaine "go all the way." Or, to put it bluntly. They have sex
Duets abound at the wedding! Check out the song spoilers below.
Check out this episode summary from Glee Zone:
Emma's nerves begin to frazzle as her Valentine's Day wedding draws near, but will the pressure prove to be too much? Mr. Schue tasks Finn and New Directions with being the entertainment for the reception; his weekly assignment is, appropriately, romantic love songs. Ryder struggles to hide his true feelings for Marley, even as he helps her clueless boyfriend Jake give her a Valentine's Day week to remember. Sparks fly as old romantic relationships are rekindled, and new – and unexpected – ones begin. Rachel offers Finn support as he wrestles with keeping a secret (that he kissed Emma), leading to an unforeseen turn of events. Glee Zone
I Do 4×14 Song Spoilers via Gleek Out Brasil
You're All I Need to Get by Marvin Gaye and Tammi Terrel Marley and Jake

(Not) Getting Married Today from Company – Will, Emma & Mercedes

Just Can't Get Enough by Depeche Mode – Kurt and Baine


We've Got Tonight by Bob Seeger – Rachel, Artie Betty (Emma's niece) Santana, Finn, Kurt, Marley, Blaine, Quinn & Jake

Anything Could Happen by Ellie Goulding – Marley, Artie and Jake
Glee I Do Photo Gallery
Glee I Do Candids
Glee I Do Promo