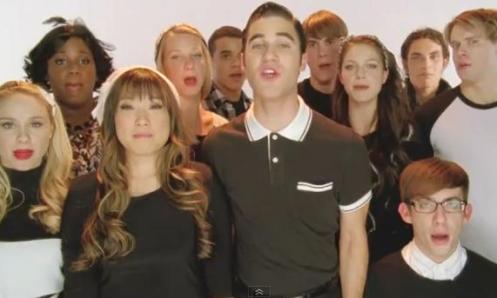 Thank you Ryan Murphy! The Glee co-creator dropped an awesome preview to next week's "Naked" episode on twitter! Watch New Directions sing a tribute version of A Great Big World's "This Is The New Year."
This is an absolutely wonderful performance. I am loving the optimism. I'm guessing this number closes the episode.
In "Naked," which airs on January 31 on FOX, New Directions produces a sexy calendar to raise money for their trip to Regionals. But, unfortunately,  Blaine and the other gleeks  have to step in when Sam's obsession with his body reaches extreme levels. Rachel is faced with a personal dilemma when cast in a student film–she's expected to go topless! Fellow graduates, Quinn and Santana visit her in New York to help out with her dilemma.  The battle between Finn and Sue reaches a new level.
This is The New Year
"Naked" Song Spoilers. (Via Gleek Out Brasil)

Torn by Natalie Imbruglia – Rachel
Hot In Here / Centerfold by Nelly/J. Geils band – Jake, Ryder & Sam
A Thousand Years by Christina Perri – Jake & Marley
Let Me Love You (Until You Learn To Love Yourself) by Ne-Yo – Jake (He sings an acoustic version to Marley)
Love Song by Sara Bareilles – Rachel, Quinn & Santana
This Is The New Year by Ian Axel – Artie, Brittany, Blaine, Wade, Marley, Tina, Sam, Jake & Ryder
Naked Preview
Naked Sneak Peak
http://youtu.be/MgyFpVY3EGE
Naked Photo Gallery