May 15 features 2 hours of Glee on Fox! The first hour is "Props" episode 20 the next hour finds the kids heading to and competing in Nationals in Chicago.
Listen to Full Songs from Props/Nationals
Watch Tina Falls Into A Fountain and "Flashdance..What A Feeling"
First Look at Props "BodySwap"
NEW clips from Chris and Jenna's visits to Live! With Kelly and The View respectively!  See the clips at the bottom of the page  Summary 1st clip: Sue demands Kurt perform in drag at Nationals. Kurt refuses to dress in drag, Mercedes reminds him of his Snooki Halloween costume. Flashback to Kurt as Snooki and Blaine as The Situation trick or treating. 2nd clip: Carmen lectures Rachel after she asks for another chance to audition at NYADA. Tina steps in to stick up for Rachel and help convince Carmen to reconsider.
Spoilers from someone who saw the episodes (BeamOfLight)
The body switching is hilarious, everyone is so good at being each other, they just capture the characters so well. – this lands well for the funny before all the emotional stuff to come.
Jenna Uzhkowitz performance is outstanding, i'm glad shes finally getting some screentime despite how strange the set up for this is. Her as Rachel is genius, Chris Colfer as Finn too is hilarious.
Honestly laughed through everyone's body switching.
Beiste and Puck singing mean. I just can't. Awesome. The whole storyline with this is fantastic.
National's prep is spot on and has been something i believe most of us have been wanting, focusing on the performance itself as the singing is perfect as it is. It's pretty silly and lots of fun.
People's individual scenes are really great this week and land very well, some haven't in previous weeks.
I actually like Will this week, he's back to his normal teaching self. He wants them to win and his passion for these kids makes my heart bleed.
I love how all the WMHS staff are going to support them, i have so much love for Sue, Emma and Beiste this week.
VA performance…meh…not that great…Boogie Shoes was far better imho.
Jesse is back and is back with style, i love his fierceness and his scenes are on top.
Christ i cried, ND performances are so well done, the singing, the dancing, all of it is just spot on and perfect.
Lindsay Lohan and Perez Hilton are pretty hilarious, despite me actually not liking either of them usually, I really like their performance in this episode.
We already know the winner and its deserved.
Great to see Whoppi back too, this scene is fantastic, i'm glad that this bit was put it after how much rage i had from the last one. Opportunity time!
The episode's are really long and there is a lot going on which is great, they have planned this very well. I'm pleased.
There's a lot of nostalgia in these episodes and how they land well to the glee club bonding.
I have to say these two are the better of the last few episodes.
I don't want next week, i can already feel the tears.
Check out a snippet of the Script HERE. "America shits itself"
NEW VIDEO: Tina Falls into a fountain at the mall and hits her head as she's on her phone muttering "I can do anything Rachel Berry can do" she comes out of the fountain transformed into Rachel. Finn and Puck have morphed into Blaine and Kurt as they help her out of the fountain.
NEW VIDEO: Watch a sneak peak of the Glee kids impersonating each other in Tina's crazy "Body Swap" dream.  Tina enters an "alternate reality" after hitting her head when she falls into a fountain. Watch the Video. Check it out at the bottom of the page.  Plus, Tina and Rachel sing "Flashdance…What a Feeling" as they head to Nationals. Watch  HERE.  The Tina/Rachel body swap is not insignificant, as Rachel is essentially "passing the torch" to Jr. Tina.
New Promo:  The New Directions practice what looks like a high concept routine for nationals that somehow involves welding and a human centipede. Hm. (watch below).  Sue and the club attempt to incorporate some gimmicks into their routines in order to stand out at Natioanals.
New; GleeZone Description: As New Directions prepares to travel to Chicago for Nationals, Tina expresses her mounting frustration at always performing in Rachel's shadow. Her rebellion threatens to undermine the team's chances for a win until she gains a new perspective after finding herself unexpectedly filling her classmates' shoes. Still reeling from her failed NYADA audition, Rachel resolves to stop at nothing to get a second chance. Meanwhile, imminent drop-out Puck continues his back-slide until the discovery of an unlikely ally leads to a timely and mutually beneficial friendship. (Gleezone)
New: Though it was revealed last night that Quinn (Dianna Agron) can stand and kind of walk now, that doesn't mean she's ready to bust out all the sweet moves New Directions usually saves for a big performance. However, as you saw in the promo, she is out of her wheelchair at Nationals, but it's still a long road (metaphorically speaking) between now and stellar kick ball changes for Quinn. Don't worry, someone special will be there to help. And then there's the whole judging panel to worry about, but we'll cross that bridge when we come to it. EOnline
Song Spoilers:
"Mean" by Taylor Swift – sung by Beiste and Puck
Flashdance – What a Feeling – sung by Rachel and Tina
I Won't Give Up by Jason Mraz – sung by Rachel
Because You Loved Me – sung by Tina ("body swapped" as Rachel)
FOX Official Photos See the Glee Cast Body switch! Blaine and Puck, Sugar and Quinn, Rachel and Tina, Will and Sue, Rory and Sam, Joe and Mike:
FOX Official summary: ""Props / (Title of Second Hour To Be Announced)" – Two-Hour Event – As the countdown to graduation continues, the kids of New Directions prepare a high-concept routine for Nationals. When Tina (Jenna Ushkowitz) bumps her head, the world of New Directions is turned upside down in her eyes.  Then, the New Directions perform at Nationals for celebrity judge Lindsay Lohan (guest-starring as herself), in a special two-hour episode. 
Tina's  mild head injury, after falling into a fountain at a mall,  results in her entering an "alternate reality" where the kids of New Directions have swapped bodies with each other!  Tina sings "Because You Loved Me" "body swapped" as Rachel.
According to just released photos from FOX, Sue hatches a "unique plan"
The  Beiste/Cooter domestic violence storyline may be picked up again in this episode.  Beiste and Puck sing a duet of "Mean Girls" Dot Marie Jones tells THR, "…there's "a little bit" more coming between Coach Bieste and her abusive husband Cooter (Eric Bruskotter), warning that just because she returned to give him a second chance doesn't mean that their story is over. "Everything is deceiving, you see something and you never know what kind of life somebody is living," Jones says. While the football coach didn't exactly set an example for women to get out of abusive relationships, Jones says not to worry: "That could change in the upcoming episodes." (Hollywood Reporter)
On April 16,  Glee filmed at Sherman Oaks Fashion Square Mall Check out this phot0 0f the set. Paparazzi photos reveal Mark Salling dressed as Blaine and Cory Monteith dressed as Kurt! Click for more photos.  That would mean Darren Criss would be Puck and Chris Colfer would become Finn.  Chris tells TV Line, ""I really thought I had the hardest one because they were really hard to nail — they're not over the top by any means. But it was also nerve wracking because I didn't want to disrespect anybody!"  Mike and Joe Hart, and Santana and Artie and Rachel and Tina also switch bodies. (TV Guide)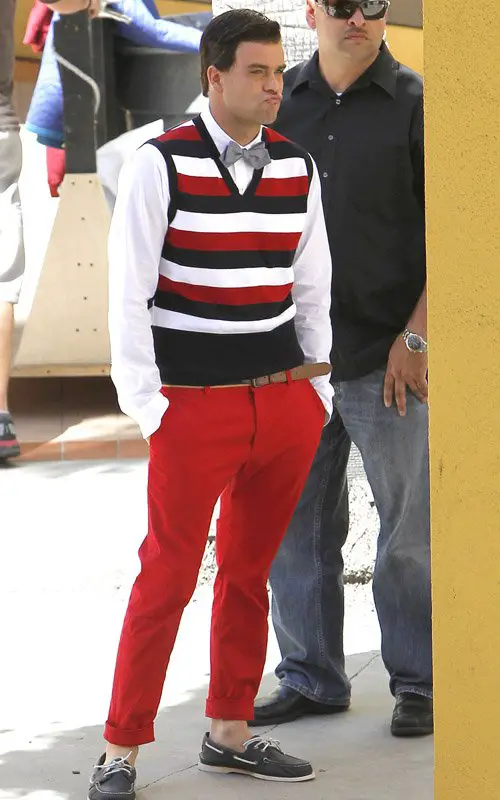 An extra at the mall posted on her tumblr:
This is what I know
Kurt(Chris) and Blaine(Darren) are sitting in massage chairs. Tina(Jenna) falls into the fountain. They get up to help her. Blaine says "Oh my god, Tina are you okay?" (or something along those lines). Kurt tries to help her while avoiding getting his clothes wet (of course, lol).
Later, Cory(dressed as Kurt) and Mark(dressed as Blaine) are at the fountain again and a girl (dressed like Rachel, but didn't look like any of the cast members) falls into the fountain.
There are more photos from the mall shoot HERE HERE and HERE.
On Friday the 13th, Kevin McHale tweeted about the "messiest" day at McKinley ever, and others calling it "freaky" and "fun".  After a crew member tweeted  these masks that the kids were wearing. (probably the welding masks the kids are seen wearing in the 30s promo below)
Not only does Tina get a solo (according to tweets) but she also sings a duet with Rachel. Hockey player Rick appears in 20.
Also singing a tune in Episode 20, Coach Bieste as Dot Jones tweeted, "I SING AGAIN IN EP #20 WITH ONE OF THE BOYS! SO MUCH FUN"
Sue demands Kurt perform in drag at Nationals. Kurt refuses to dress in drag, Mercedes reminds him of his Snooki Halloween costume. Flashback to Kurt as Snooki and Blaine as The Situation trick or treating.
[hana-flv-player video="http://mjsbigblog.com/video/chris-live.mp4″ width="480″ height="270″ description="" player="4″ autoload="true" autoplay="false" loop="false" autorewind="false" /]
Carmen lectures Rachel after she asks for another chance to audition at NYADA. Tina steps in to stick up for Rachel and help convince Carmen to reconsider.
[hana-flv-player video="http://mjsbigblog.com/video/rachel-view.mov" width="480″ height="270″ description="" player="4″ autoload="true" autoplay="false" loop="false" autorewind="false" /]
Tina Falls In A Fountain and Transforms into Rachel Berry
[hana-flv-player video="http://mjsbigblog.com/video/bodyswap.flv" width="550″ height="310″ description="" player="4″ autoload="true" autoplay="false" loop="false" autorewind="false" /]

New Directions Body Swap! Sneak Peek
PROMO
Tweets