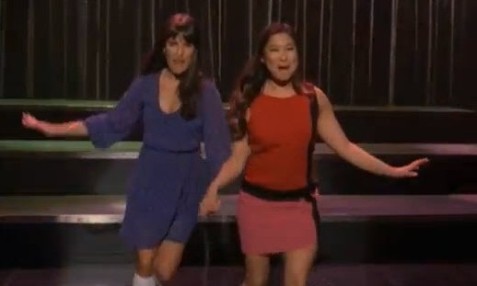 Next week we get a Glee double header.
At 8 pm it's "Props". After falling during Glee practice and hitting her head, Tina (Jenna Ushkowitz)  has some wacky hallucinations that include the Glee kids swapping bodies with each other.   But. look! She recovers by the end of the episode!  Here she is with Rachel (Lea Michele) singing Irene Cara's "Flashdance…What A Feeling" as they make their way to the bus that will take New Directions to Nationals in Chicago.
At 9 pm, in "Nationals", the club will compete against Vocal Adrenaline for the show choir top spot. Will the graduating seniors taste success before they leave McKinley and their high school lives behind?
Actually, if you want to know the answers to some of those questions, check out Props Spoilers and Nationals Spoilers.
In the meantime, here's your Tinchel duet.
http://youtu.be/V6eDM6Utrhg