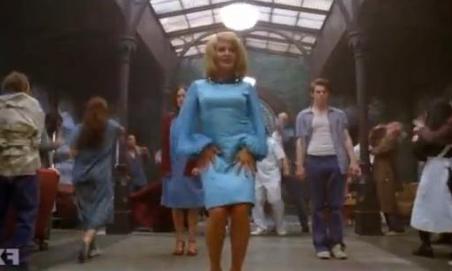 Does anybody watch Glee co-creator, Ryan Murphy's OTHER  television series show on FX? I've tuned into American Horror Story a few times, but quite frankly–I'll admit it–the spooky horror anthology is way too scary for me. Maybe I'll give it another shot on Hulu…but probably not.
Glee and American Horror Story couldn't be any more different from each other–the former a sunny yet dramatic take on high school singing competitions. And the other, a gory creep fest. But  as a fan of mashups, Ryan couldn't resist bringing a little musical theater to the horror genre.
Ryan enlisted Glee choreographer, Zach Woodley to create a musical number for the divine Jessica Lange (she plays the nasty head nun) and the inmates at Briarcliff Manor insane asylum, where the second season of AHS takes place.. The tune is Shirley Ellis' 60s hit, "The Name Game."
You haven't seen anything until you've witnessed a bunch of crazy people rhyming their own names!  I think Ryan should bring Bloody Face to McKinley High. That could be fun.
http://youtu.be/3e37NtAYb5g