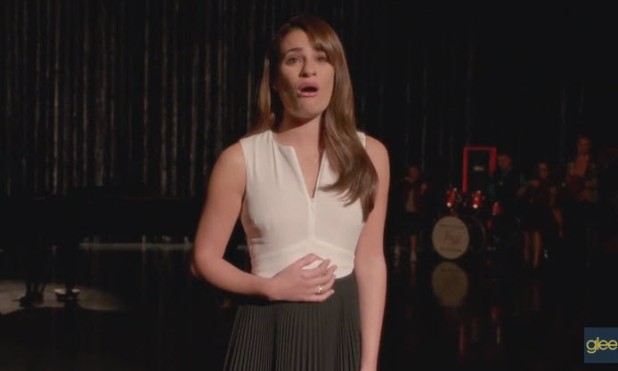 Let's practice sobbing for the end of Glee as we watch Rachel (Lea Michele) say goodbye to McKinley High and Ohio forever in a clip from tonight's two part series finale. The song, "This Time" was written by her fellow castmate, Darren Criss, expressly for Lea.
"It was a tough thing," said Darren about writing the emotional power ballad, "because I tried to encapsulate how I felt about the show, how I felt the characters would have felt about the show, and how the actors themselves feel in real life about the show."
Darren also had fans in mind, "the people that have been experiencing [Glee] for all this time" as he wrote the tune.
"There could have been no other song that perfectly encapsulated the entire experience," Lea said about the very last song she recorded and sang on Glee. "Darren really gave me the greatest gift.
"I got to say everything to everyone…that I wanted to say, but I can't think of the words and he wrote them," she said. "It's so special – it was the most amazing memory."
Watch Lea Michele sing "This Time" on Glee's series finale, airing tonight on FOX at 8/7c pm. Darren is headed off to Broadway to play Hedwig soon. With the connections he's making on the Great White Way, I could easily see him back to writing songs for stage shows, as he did in his pre-Glee days with Starkid.
https://youtu.be/ieUPxz25glg